This article and two associated videos are designed to pull together various resources from all over the Forexearlywarning website that discuss trade entries into one place. Our website has lots of guidance on trade entries and we will refer to them in this document and video. Many traders are happy with the Forexearlywarning trading system and making lots of pips now. But some traders using our trading system are still making less pips and missing a few criteria for better trade entries. This article and associated videos should clear everything up, so their pip totals improve. We will strongly suggest that you use the Metatrader profiles to set up your charts by individual currency to have a strong positive impact on your trades. The videos at the bottom of this article will show you exactly how to set up the profiles.
Our trading system works fine for most traders as is, but some people are still unable to maximize their pip gains. One person might make 200-300 pips or more in a week and some might make very few pips at all in the same week. Remember the end user is the biggest variable in our trading system. We are trying to even out the performance of all traders with these videos. We will use JPY weakness as our example trade entry below. But the principles outlined here are exactly the same for all 8 currencies we trade, up to 28 pairs. If the JPY is weakening you might get a push alert on your desktop browser, mobile device, our scanner system, or audible price alert from your trading platform. All of our alert systems are outlined in Lesson 16 of our 35 forex lessons.
Trade Entry Example
After you get the alert on the JPY pairs, the next step is to open up your charts on the Metatrader profiles viewing all of the JPY pairs charts on the smaller time frames, like the M5, M15, or M30. The smaller time frames feed the larger time frames.
If The Forex Heatmap® indicates that the JPY is weakening on all pairs and looks consistent, you have a potential entry point for a buy on any or all of the JPY pairs. You should be able to see all 7 of the JPY pairs on one screen side by side to match the heatmap: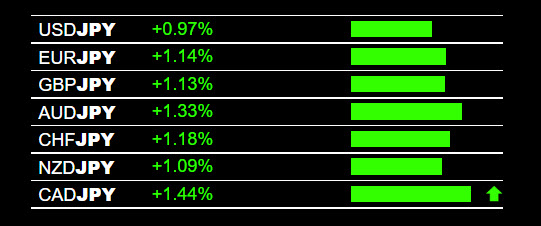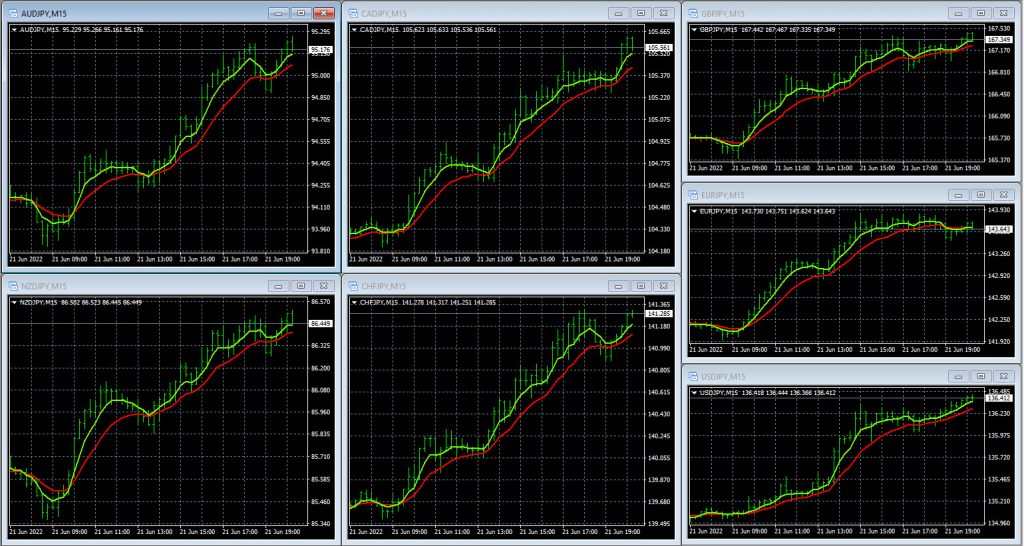 This is a view of all of the JPY pairs on the M15 time frame. The reason you set up the Metatrader Profiles on the smaller time frames is so the smaller time frames on your screen match the heatmap configurations for consistency. You can look at all 7 JPY pairs at once on the smaller time frames on one screen. This is a very powerful trading system. On this particular day the JPY pairs had a combined movement of 800-900 pips, in just one trading session and movement cycle. Traders can also set up the charts this way on other charting platforms like web-based forex charting platforms. This is a fantastic way for forex traders to set up their charts to monitor trade entries for 8 currencies and 28 pairs for maximum profitability and visibility.
If a trader decides to buy the EUR/JPY based on the JPY weakness, there are two possible outcomes. Possible Trade Outcome Number 1: The trade stalls and goes nowhere bouncing around, + or minus 10 pips, you must exit the trade within about 30 minutes. See our 30-minute rule in Lesson 29 of our 35 forex lessons. This lesson is titled: Forex Money Management.
Possible Outcome Number 2: This is a more likely outcome since the JPY pairs have so much momentum. The EUR/JPY buy trade continues up into strong positive pips. The trader would then move their stop to breakeven and start to scale out lots (see Lesson 29 again) for various scaling out procedures.
Now Check The Higher Time Frames
You are now in a buy trade on EUR/JPY. Next decision is to check the higher time frames on the EUR pairs and JPY pairs to see the if EUR is strong and/or the JPY is weak to see if you are in a trend trade or shorter-term trade. This only takes a few seconds to check with the Metatrader profiles.
Simply click on the Hotkeys on your keyboard to move the profiles to the EUR and JPY pairs on the D1 time frame. If the all of the EUR or JPY pairs are trending up on the higher time frames, then you can hold the trade and start looking for price targets. Very simple but usually ignored by most traders.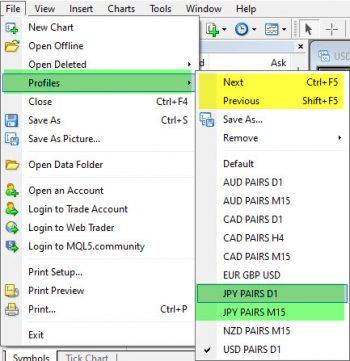 Ctrl F5 and Shift F5 keys can be used to navigate 7 charts at a time, or use the Metatrader profiles dropdown menu. Review the larger time frames, then a decision can be made to hold any remaining EUR/JPY lots for additional trend-based pips.
Traders who would like to analyze the forex market like a professional can also use the higher time frames to do this. Just fill out our forex market analysis spreadsheet for the 8 major currencies every day on the higher time frames, like the H4, D1 and W1 time frames. The Metatrader profiles will facilitate the analysis. If you do this you will always know what pairs are trending and what currencies are strong, weak, or choppy.
Videos On How To Set Up The Charts
To set up charts by individual currency on any time frame using the Metatrader profiles we have this basic video on how to do this. We also have 2 videos titled "Fine Tuning Your Forex Trade Entries" in our Youtube library. These videos will expand the discussion and show you step by step how to set up the Metatrader profiles, and their importance to your trade entries and individual currency or overall market analysis technique. Become an expert on these chart setups and navigating 7 pairs at a time quick to supercharge your forex trading.