Forex Alert Systems, Monitoring The Market
This article will review all of our forex alert systems for monitoring the market for movement. The goal, as a trader, is to know when the forex market is moving so we can intercept the movement and capture pips. We will show traders how to leverage all of the forex alert systems we have to accomplish this, and how to maximize computer time, to be more time efficient. Traders need great real time alert systems to be in the know during forex market hours.
Forex Alert Systems, Economic News Calendar
The forex economic news calendar is not an alert system, per se. But since all of the major news drivers that produce movement are scheduled in advance, it functions like an alert system where the alerts are on a schedule, which is great for planning your trading week in advance. We advise all forex traders to use the world economic news calendar like an alert system, and to monitor the forex market after strong news drivers for potential trades. This works well in both trading sessions and across all 8 currencies we follow. In an average week there can be up to 25 different news calendar events for volatile news drivers, like the one shown below for the GBP (British Pound), which is one of the 8 currencies we follow.

The economic news calendar will undoubtedly be very a very valuable tool to keep forex traders informed as to when the market might be moving. Traders can then start maximizing their valuable computer screen time with this tool. You can check the news calendar for the entire week on Sundays and look for the strong news drivers to help with planning, and this is a real time saver for all traders. Being conscious of when the next major news drivers are on the economic calendar is part of any good forex alert system strategy.
Forex Alert Systems, Price Alerts
A price alert is an alert sent to a forex trader when a specific price has been breached on any of the 28 pairs we follow. Audible price alerts that you can hear on your computer speakers are in real time, and these type of alerts can be set up on your brokers trading platform. We have a short video that shows traders how to set up audible price alerts. Audible price alerts will alert traders as to when a forex price breakout is occurring on smaller or larger time frames on any pair.
Some trading platforms also allow price alerts to be sent to your email, mobile device, or cell phone. These are also excellent options for price alert systems, but the emails may be slightly delayed. Traders can set price alert at potential breakout points. These breakout point price alert levels are available in the Forexearlywarning trading plans, which we issue daily.

In this example above on the USD/CHF, you would set your audible price alert at the resistance breakout point, the yellow line. When the alert goes off, you can check The Forex Heatmap® to validate the trade entry. Price alerts tell you when to check the condition of the overall market and to see what pairs are moving on The Forex Heatmap®, which is our live tool for verifying trade entries. The goal with price alerts is to intercept the next movement cycle. Sometimes the price alert will go off and it turns out to be a price spike or fake out. In this case traders can re-set the price alert slightly higher and continue to monitor the same pair for a resistance breakout later in the same trading session. Price alerts are fantastic because you can monitor a handful of pairs and basically know when the forex market is moving at any time, or in any trading session.
Forex Heatmap
®
Alert System
The Forex Heatmap® alert system is a very unique forex alert system. It tells you what individual currencies are moving in real time. Heatmap alerts will appear in real time if at least 6 out of 7 pairs in the same currency group indicate consistent strength or weakness. It is one of the most unique forex alert systems in the retail trading industry, and these alerts work for 8 currencies across 28 pairs. These are real time visual alerts delivered to your desktop or mobile device.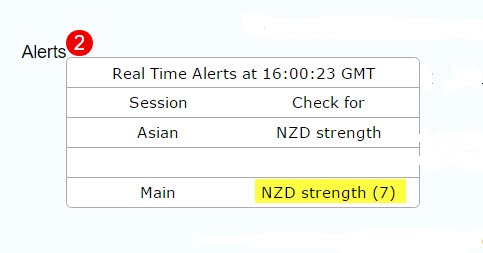 The example above is for the NZD pairs. The red number is the number of alerts in both trading sessions, and for what currencies. You see a live heatmap alert showing NZD strength with a (7) designation. This means that all 7 out of 7 NZD pairs are indicating consistent NZD strength, excellent conditions for a trade based on NZD strength, like buying the NZD/CHF, or selling the EUR/NZD. The visual arrow alert on the heatmap points to the pair moving fastest in the group, and in many instances this pair can be traded. The heatmap alert system is powerful and can point you towards trades every day in both trading sessions across 28 pairs. The heatmap alerts, heatmap, and arrow system are all visible on any mobile device.
Montoring The Forex Market Manually
It is possible to monitor the forex market without any alert systems at all. All you have to do is know when the main trading session or Asian trading session starts in your time zone. Then, you can check the market condition every 15-20 minutes manually. You can do this for about 5 hours per day in the main session. In the Asian session you can do this also. You can check this reference to know when the forex trading sessions are in your time zone. The Forex Heatmap® is an effective time management tool because it allows you to track more pairs and scan the entire market in under a minute, and increase your time efficiency.
You do not have to be in front of the computer if you use the heatmap to monitor the market manually, but you have to be near a computer or mobile device. If you see consistent movement, then traders can possibly take action for a new trade entry. Manually monitoring the market can also be combined with the economic news calendar or any of the other forex alert systems we have to create your own custom system to monitor the forex market for movements. Whatever suits your taste or lifestyle.
Using The Trading Plans To Assist With Monitoring The Forex Market
Traders can check the daily trading plans so they will always know where the major trends of the market. If traders also analyze the forex market daily with multiple time frames, they will always be in the know about the condition of the overall forex market, trending, oscillating or choppy. Full time traders should drill down the charts daily, part time or busy traders should drill down the charts as often as possible. Even if you are not trading today or this week you can read the Forexearlywarning daily trading plans reports to stay in tune with the market. The trading plans are compact and don't take much time to review. The trading plans also tell traders where to set your audible or email price alerts at for 28 pairs, and the plans also provide price targets for most pairs.
Forex Alert Systems, Trading Plan Alerts
When a new trading plan is issued, we have 3 real time alert systems to notify traders, immediately after the plans are published. We send out email alerts, we also notify clients on our twitter feed, and we also have a visual alert notification system on our homepage. After a trading plan is issued, all 3 alerts that a new trading plan is available are sent out within 3-4 minutes. The alerts are on the homepage and also in the members area of the website and the flashing yellow alerts look like the image below.

Forex Alert Systems for Mobile Devices
The economic news calendar, heatmap, heatmap arrow system and heatmap live alerts are all visible on any mobile device. The trading plan alerts are visible on any mobile device also. The price breakout alerts are audible alerts on your desktop, but the price alerts can be sent to any mobile device via email, check with your broker on what options are available here. So the complete suite of alerts allows you to monitor the market remotely during forex market hours. The Forexearlywarning website is fast and mobile friendly so traders can take advantage of all alert systems.
Conclusions About Forex Alert Systems - Montoring the forex market for price movement is essential to capture pips. Traders need some type of alert system to notify them when movement might be occurring or is occurring, so they can intercept the moves. We have several alert systems for traders to evaluate. Use whatever alert system you like or some combination of systems. It depends on your lifestyle and schedule. Think about the various systems and which ones you want to incorporate into your trading schedule. Use the alert systems to maximize screen time while being time efficient.