Forex Tips and Strategies To Implement Now
This page contains the best list of forex tips and strategies to get any forex trader on their way to making lots of pips. Each tip is meant to introduce traders to a new topic, with some links to more content on that specific subject.
Tip 1
- Always trade in the direction of the major trends on the H4 , D1 and W1 time frames. trend. The foreign exchange is a large, liquid market and the trends, momentum, and movement cycles tend to last longer than other financial markets. If you don't know the trends of the market or consistently trade against them it will cause pain and losses. We provide all forex traders with easy to set up forex trend indicators and actively promote trading with the trend.
Tip 2
– Almost all forex traders do not have their charts setup correctly. We suggest using some simple, basic exponential moving averages which can be set up quickly for 8 currencies and 28 pairs total. We also have a powerful chart setup option using the
Metatrader profiles
which will elevate your forex trading to the top 1% of all traders. Navigate quickly using "hotkeys" on your keyboard and view 7 charts at a time on the lower or higher time frames. Highly recommended.
Tip 3
– Individual currencies rule the movements of forex market. Traders must analyze the forex market by individual currency, then enter trades the same way. We would avoid layers of technical indicators completely. Once you start
analyzing the forex market
by individual currencies, you will not look back.
Tip 4
- Entering trades is critical to all traders. In order to assist forex traders with their trade entries, we have written procedures for trade entry points. It might be best to have written rules for entering a trade for you to follow. So if you want to develop rules for your trade entries you can use the trading rules we developed in Lesson 25.
Tip 5
- Instead of indicators, we use momentum based trade entries. This enables the trader to move their stop order to breakeven, or exit if the pair stalls. When using our trading system, all trade entries should be accompanied by strong momentum using The Forex Heatmap
®
.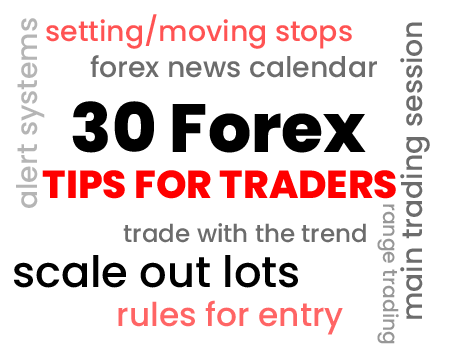 Tip 6
- Always trade with a stop order, not because you expect to lose, but to prevent a large loss from an unexpected news event which could send the maket pairs in the opposite direction of your trade. When you enter a trade your initial stop order procedures using our trading system are well defined in our money management procedures lesson and trade entry points lesson, with illustrations.
Tip 7
- After you enter a trade, if the pair stalls after about 30-45 minutes in the trade we recommend exiting the trade. More information about our 30 minute rule can be found in our lesson about money management. Also, after you enter a trade, if the momentum carries the pair into 30-40 pips profit, we recommend scaling out lots and moving your stop to breakeven, in most cases. This is our basic rule of thumb for profit taking.
Tip 8
- Almost all forex traders do not write trading plans, most trade entries are random and based on technical indicators. Learning to prepare a written trading plans require some discipline, but we have a detailed guide for writing a trading plan to describe the full process to you. When we prepare a trading plan they target the higher time frames. This way the money management ratio or risk-reward ratio is much higher than what you normally see forex traders using. We prepare trading plans for a minimum of 100-125 pips of potential and 200 pips for the most volatile of the 28 pairs we follow.
Tip 9
- The forex market is a 24 hour market, but you can easily spend much less time in front of the computer. The best time to trade the forex market is in the main forex trading session, where 80-90% of forex trades occur. Read about the main trading session and Asian trading session in the link above. For more specific times to trade, you need professional alert systems that tell you when the forex market is moving. Check out all of our forex alert systems and set up your desktop and mobile devices like a hedge fund.
Tip 10
- Many forex traders are good at making pips with our trading system, however they lack the money to fund a large trading account. This is not a problem. There are now 30-40 capital providers who will get you a fully funded trading account, some with almost no qualifying. Great traders can get $1 -2 million dollars in capital fom many of the funding providers with a low drawdown trading system like Forexearlywarning.
Tip 11
- Many forex traders "focus on one or two pairs", like the EUR/USD. We think this is bad advice. Traders should unlock the potential of the top 8 currencies and 28 pairs. You can get fantastic daily movements and much higher pip totals with the top 28 pairs. We will provide you with the tools and systems to cash in and open up the full potential of the forex market. Forcing trades into the same pairs every day with technical indicators is not the answer.
Tip 12
- Most forex traders do now know the condition of the market when they are trading, but the overall market condition impacts their trades. It is fairly easy to evaluate the market using
multiple time frame analysis
and our
forex market analysis spreadsheet
. With these tools you will always know if the forex market is trending, ranging, or choppy, and what currencies are strong or weak at all times.
Tip 13
- When you switch from trading one or two currency pairs to 28, you have to make some adjustments. Learn more about the characteristics of all 28 pairs we trade like volatility, spreads, major pairs, reserve currencies, commodity based currencies, etc in our lesson about
currency pair characteristics
.
Tip 14
- What does a good trade entry point look like? Most forex traders do not knw due to the heavy use of technical indicators. Momentum based trade entries are a game changer. Check out 10
example forex trade entries
with strong momentum at the point of entry. Moving stops to breakeven and managing profits now becomes a reality on almost all of your trade entries.
Tip 15
- Currency trading is a step wise process. First you
demo trade
, then you move to
micro lot trading
, then ramp up to full scale lots.
Build confidence as you go and don't expose yourself until you have your entry procedures, experience level and profit taking procedures down well. There is no substitute for experience and actual trading experience cannot be taught.
Tip 16
- Go mobile! More and more traders are trading remotely. The Forexearlywarning website is super fast and 100% mobile friendly with our cloud based servers. We meet all google standards for speed and mobile usability, and have
push alerts
that can be sent to any mobile device.
The best trading tip we can give you
is to find a trading system that works and makes pips. Here is an example trade entry using our trading system, pips are possible for any trader across 8 currencies and 28 pairs.