Forex Trend Indicators Free, Easy Setup, 9 Time Frames
If you are a trader who is looking for a set of forex trend indicators, metatrader trend indicators, or trend indicators that can be adapted to other charting platforms you can use the indicators presented here. This article will provide written and video instructions for setting up these free forex trend indicators on any metatrader platform, but adaptable to other charting platforms. These trend indicators can be used for conducting multiple time frame analysis, or follow the trends of the market and our trend based trading plans. These indicators are easy to set up for all 28 pairs we follow.
Trend Indicators Set Up Instructions
These instructions are for setting up the trend indicators on a Metatrader platform, however experienced traders can set up these exponential moving averages on almost any good quality forex charting platform, as long as the charting platform has the same 9 time frames or more.
Red Line: Exponential Moving Average, Period is 12, line thickness is 2.
Green Line: Exponential Moving Average, Period is 5, line thickness is 2.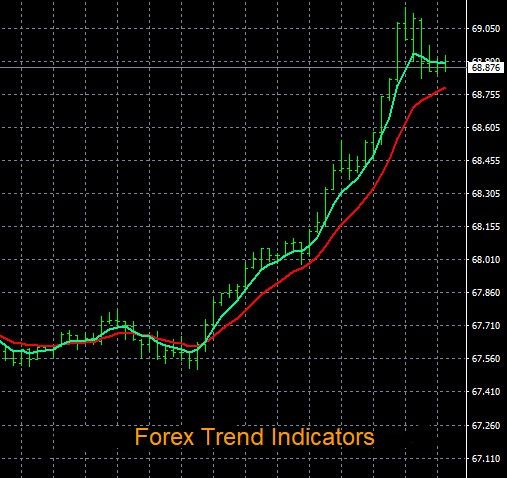 1. Open up a Metatrader platform from any broker you wish.
2. Open up a chart on one pair. In metatrader right click on a pair in the quote window and symbol area and click on "chart window" in the drop down menu. The chart will be added to the platform. This is a basic open high low close barchart on a default black background.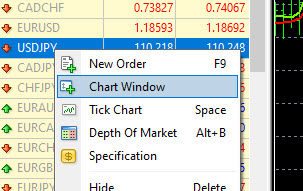 3. Then go to the top tool bar and there is an icon that looks like a magnifying glass with a + and - (plus and minus) sign. You can click on the + sign twice to magnify the chart so it looks like the example above with the green bars spacing improved. More chart examples are available on our website in many locations.
4. In the "Navigator" area under the "Indicators" menu right click on "moving average" or "custom moving averages", then click on "attach to a chart".
5. Fill in the fields like this:
Inputs: Period: 5, Method: Exponential, apply to: close, Colors: Green, line thickness is 2.
6. On the same chart repeat step number 4 and fill in the fields like this:
Inputs: Period: 12, Method: Exponential, apply to: close, Colors: Red, line thickness is 2.
7. On the "visualization" tab check "all time frames" then click OK.
You now are finished with the setup on one pair for all 9 time frames. Repeat the process for each successive currency pair. It takes about 30 minutes to set up all 28 pairs we follow. If you do this once all of the settings will be saved automatically for all of the pairs. The currency pairs you should set this up for are all 28 combinations of the USD, CAD, EUR, CHF, GBP, JPY, AUD and NZD.
Videos For Trend Indicator Setup
You can also watch these videos to set up your trend indicators:
Basic Trend Indicator Setup as shown above.
How to Group Pairs by Individual Currency
How to Set Audible Price Alerts
All Of Our Videos Including More Advanced Metatader Features
These Trend Indicators Have Many Uses
These trend indicators are flexible and have many uses. If you set them up on metatrader or any other platform you can use these indicators for following the trends of the forex market, or for following our trend based trading plans. You can also use these trend indicators to determine if the market is trending, ranging, or choppy using multiple time frame analysis. Traders can also determine what curencies are strong or weak using our forex market analysis spreadsheet, and also to spot support and resistance levels. You will also know when the trends start and end, and on which time frame. So you can see these trend indicators have many uses, very high value.
One other use for these trend indicators is for trade entries. When the price alerts start hitting in the main trading session, or you notified by any of our other professional alert systems, you know the market is moving. You can then monitor The Forex Heatmap® forex heatmap along with the trend indicators on the smaller time frames to guide your trade entry into the trends on the higher time frames. Traders can get outstanding results like you see below, over 150 pips of movement in one daily movement cycle.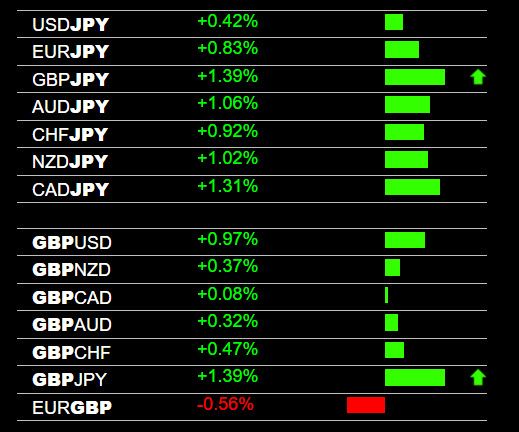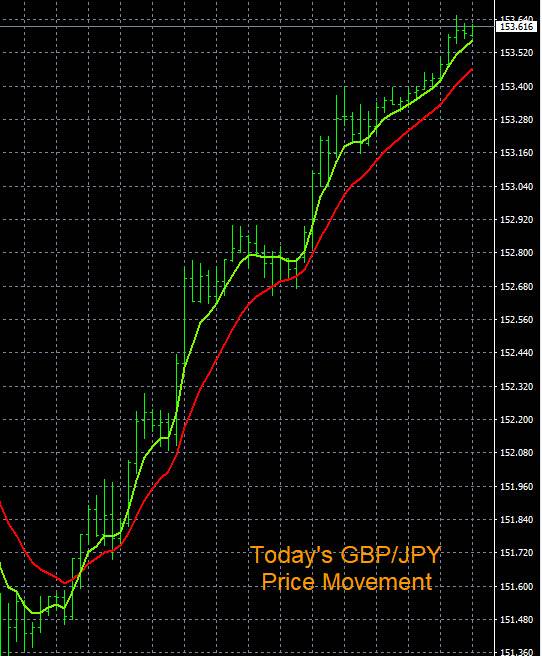 Conclusions about our forex trend indicators: Forexearlywarning provides these instructions for setting up our trend indicator system for use across 8 currencies and 28 pairs. These are high value indicators that serve many functions. We advise all traders to use this trend indicators setup and begin to build your trend based trading system.