Forex News, Part Of A Complete Trading System
Forex news occurs weekly and most news events are scheduled in advance. Traders can use these scheduled forex news events to put into their trading plans. Forex news is part of any complete trading system. Other components of a great trading system includes a complete market analysis, having written trading plans for each pair you are considering trading, and excellent signaling and alert systems.
Forex news and the forex news calendar are an important part of our trading system. We will show you the various types of news events, how to know when they occur, and how and when to incorporate them into your daily trading. The economic news events and news drivers are just as important as any other part of our trading system for driving price movement and trading opportunities.
Sources Of Forex News
Forex news comes from various agencies and industry groups around the world, including government agencies like the Federal Reserve banks, business statistics bureaus and commercial business entities. These agencies report news on things like surveys of purchasing managers, payroll analysis, energy and commodities inventories, interest rates, etc. The total list of published news releases is quite large.
We track 8 currencies and 28 pairs with our trading system. The news calendar consolidates all of the scheduled forex news drivers for these 8 regional currencies and curates them on an easy to read calendar. Traders can check these calendars and they will know when these news events will occur for the British Pound
, US Dollar, Yen, Euro, Canadian Dollar, New Zealand Dollar, Australian Dollar and Swiss Franc. Traders can use the news calendar to their advantage because they will know when they should be in front of the computer for possible market volatility, price movement, and trade entries.
Forex News Calendars
Forex traders have many choices for forex news calendars, you can find quite a few of them with web searches. Here are a couple of news calendars that should serve your needs. This is a link to one world economic news calendar on our website. It shows the scheduled time of the the volatile news items or high impact items annotated with three icons, and they are highlighted in yellow. These news drivers are specified to notify forex traders of exact times when volatility and price movement may occur. You can check the weekly or daily view on the calendar in advance to help to plan your trading week. We reference these volatile economic news items on the calendars in our trading plans.

Notice that the New Zealand Dollar, Australian Dollar and Japanese Yen are three of the currencies we trade. All of the other less volatile news drivers also appear on the economic calendar coded in other colors or some other way. The economic calendar can also be adjusted to match your time zone and computer clock to synchronize. This forex news calendar is an excellent tool to supplement your forex trading and the trade planning process.

Another source of forex news we like is the news calendar on the DailyFx website. This particular news calendar has a different look. On this calendar the volatile news items or high impact items are annotated with a red icon "High". You can see three example high impact news drivers for the Japanese Yen and US Dollar annotated in red. Traders can plan to be in front of the computer when by looking at the calendar and planning ahead.
On most economic calendars you click on the "weekly view" and the calendar will default to showing all of the economic news for the entire week. This allows you to check the calendar on Sunday or Sunday night and see what volatile items are coming for the week. This takes 10 minutes and is great for traders who also have full time jobs, and need to manage their time.
In the main forex trading session, the news drivers that occur are primarily the EUR, GBP, CHF, USD and CAD. In the Asian trading session, news drivers are mostly from the the NZD and AUD regions. JPY news drivers generally occur late in the Asian session and beginning of the main session. These are general rules that cover 80-90% of news drivers. Our trading system is primarily designed for trading in the main session. A few times per month, Asian session news drivers can drive strong price movement. Check the news calendar for the time of news drivers on the AUD and NZD pairs in the Asian session. Since there is less liquidity during the Asian session we suggest only trading a few times per month with trends that are early in the cycle on the larger time frames like the H4, D1 and W1. Check this lesson for a complete guide to the forex sessions and best times to trade and both trading sessions.
Example Forex News Trades
If you choose to trade forex news drivers with no other guidance, we believe that would be a big mistake, and basically you would be gambling. Also it is not necessary to do this. When you trade forex news you should always know the condition of the overall market, and the currencies you are trading. You should know the direction of the trend, have a great set of alerts and indicators, and have a clear possibility of movement based on support and resistance. Trading in the direction if the major trends or near the beginning of a trend cycle is also a great addition to trading with the news. We make all of this information available to traders with our trading system.
Always perform a rigorous analysis of 28 currency pairs across multiple time frames and set your trading plans, the forex news check is a final check to see if volatile news drivers could potentially drive a pair in the direction of the trend. In the example below there was a New Zealand Dollar news driver on the forex news calendar. After the news, traders could easily see what direction to trade based on consistent NZD strength, fully verified with parallel and inverse pair groupings using The Forex Heatmap®. Having a tool like this along with the news can turn news trading into a profitable venture. NZD news drivers occur throughout the month in the Asian trading session, week after week.

On the first Friday of each month is the regularly scheduled non-farm payrolls employment news from the USA. On these days we suggest trading after the news driver because most of the market stalls ahead of this news driver. In the event you see a solid set of trading signals develop a couple of hours ahead of this news driver, and you decide to enter a trade, just make sure you set your stops to break even ahead of the NFP news driver. An example non farm payrolls news driver is shown on the calendar below.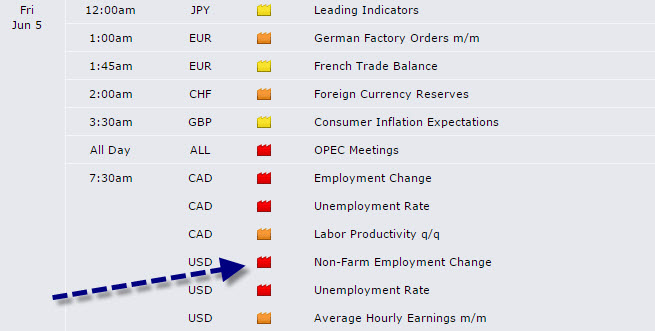 We have seen some traders and websites suggest that trading the NFP news driver is too risky. We disagree, if the charts and signals are good we advise looking to enter trades after the NFP news driver. We have developed a guide to trading non farm payrolls. Also once per month the FOMC meeting minutes news driver is scheduled on the USD news calendar, and it is also possible to enter trades after this news driver, if the market is consolidating ahead of the news.
Actual News Versus Forecast News
On the news calendar next to each scheduled news item is the predicted or projected outcome of the news. For example on the ECB minimum bid rate news driver, if the rate is expected to hold steady but the number comes in higher than expected the EUR could strengthen sharply across all pairs and this EUR strength would be picked up by The Forex Heatmap®. In this case you may be able to trade after this news. So the projected numbers might be wrong but if you use all of the trading tools available to you in our trading system you can still pocket pips after the news. In this case knowing the time of the news is more important than the projected outcome, because many times the results are unknown.
Unexpected Forex News
The main topic of this article is how to use scheduled forex news drivers to benefit forex traders. But sometimes the currency market starts to move unexpectedly for an unknown reason. This could be due to unexpected forex trading news of some kind, not on the calendar. It could also be some political event or terrorist activity. If the market is moving and there is no scheduled news, look for breaking or unexpected news on any real time forex news website. Unexpected movements in the forex market will always be detected by The Forex Heatmap®, along with the heatmap alert system, as well as the audible price alerts we set every day with the price alerts we set. If traders leverage our trading plans and all of our alert systems, you can detect when the market is moving for almost any reason, including unexpected news events.
Live streaming or real time forex news websites are also available, also some real time forex news apps. Following all the live forex news events on a real time basis would be a 24 hour/5 day per week job, we do not recommend this at all. You can catch the majority of the movements across 8 currencies and 28 pairs by setting audible price alerts and watching the world currency news just after the major scheduled news drivers on the calendar. We also have our Forex Heatmap® alert system which tells you when 8 currencies are moving consistently, a much more superior and time-efficient system of monitoring the forex market for movement.
Conclusions About Forex News and Including It In Your Trading: Incorporating forex news into your trading program is a wise move. We suggest using other parts of a great trading system with the news, like knowing the condition of the market, direction of the major trends, thorough market analysis, support and resistance levels, along with excellent signaling systems. With all of these components of a great trading system in place, forex news is welcome as part of the system. Never trade forex news on a stand alone basis, as this is much too risky.
Scheduled forex news combined with all of our other alert systems will help you to spend a lot less time in front of the computer but you can still monitor the movement cycles of the spot market on 28 pairs. Sometimes, in the trade planning process, it is difficult to tell exactly where to set a price alert on a particular pair, so one possibility is to monitor for a potential trade entry based on the scheduled forex news time.