Forex Heat Map®, How To Use For Trade Entries
The Forex Heat Map® is a real time visual map of the entire forex market for spotting strength and weakness in individual currencies. It also verifies and validates any trade entry. It monitors 28 currency pairs in real time. It will also point you to additional trading opportunities in the same parallel/inverse group of pairs that you may have not considered during the trade planning process. We refer to these as supplemental trades. The Forex Heat Map® also tells you when the market or individual currency groups have mixed signals and therefore it tells you when NOT to enter a trade. As a forex trader this is great because you can avoid fake outs, price spikes, etc. and it also identifies the risk of entry on each and every potential trade.
Below is an example of an NZD strength trading signal. In this situation you would consider a buy on the NZD/CHF or possibly sell on the EUR/NZD. Same logic applies to 8 currencies and all 28 pairs we follow.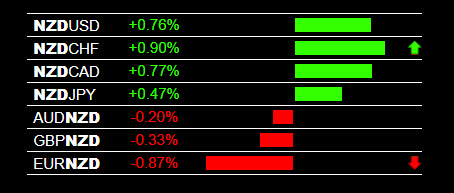 The number one question that forex traders have is when to enter trades, what pair to trade and in what direction, and how to quantify the risk of each entry. The Forex Heat Map® answers all of these questions daily across 28 currency pairs.
What The Forex Heat Map® Does Not Do
The Forex Heat Map® indicator does not know the strength and quality of the trend, the direction of the trend, or even if a trend exists on the specified pair.
The heatmap does not know if the trend cycle has just started, or if the pair has already moved deep into the trend.
The heatmap does not evaluate the current market conditions, i.e, trending, choppy, cycling or ranging, etc. for you nor does it analyze support and resistance levels.
But that's okay because Forexearlywarning.com gives all traders a set of very simple trend indicators and inexpensive forex trading plans to assist with daily trend analysis across 28 pairs. When using the heatmap, traders must check the condition of the trend with these basic indicators to answer those questions. Any
trader can learn to check the trends using multiple time frames. Also, the Forex Heat Map® does not know when economic news drivers are coming in the trading sessions, but world economic news calendars are readily available and part of our system.
Forex Heat Map
®
Layout and Controls
The basic layout is two heat maps, one is for trading in the Asian session one for trading in the main session, i.e, European/London/US sessions. You can read this article for more information about the two different forex trading sessions. The top of the two heat maps displays the current date and time in GMT, along with how much time remains until the percentages reset to zero (next reset in:), which is when the percentages reset to zero for that trading session. Each heat map zeros up once per day, and each is on a 24 hour clock.
The Forex Heat Map® indicator refreshes more or less continuously, for hands free operation, so entering trades on your trading platform and market monitoring is very easy. If you have two screens on your computer setup you can put the heat map indicator on one screen and your trading platform on the other. Our heatmap alert system is also very handy for monitoring the forex market for movements.
The Forex Heat Map® runs on an independent server with price feed. In case of outages, we also have a backup version that is on a fully redundant data feed and fully redundant servers. You can trade a total of 28 pairs with any of our heatmaps.
When To Use The Forex Heat Map®
The best times to trade the forex market is always going to be in the main trading session. Your own experience watching the heatmap during the main trading session and demo trading these signals for about 30 days will convert any forex trader to this style of trading. Combining the heatmap with the free trend indicators on our website and support and resistance levels turns into a powerful trading system.
The first thing you need to learn is to determine when an individual currency is strong or weak. For example when the EUR is strong all of the EUR pairs will be green. When some currencies like the CHF are strong some pairs in the CHF group will be red and some pairs like the CHF/JPY will be green because the CHF is on the left side of the pair. This takes a few days to get used to this, but since we only trade 8 currencies you can get used to this quickly. You can learn how the heatmap guides your trade entries with these examples of basic currency strength and weakness. We have plenty of examples of good quality forex heatmap trading signals to get the hang of it.
Forex Heat Map® Strategy - Slingshots
A slingshot is a Forexearlywarning slang term we use for when you have consistent strength on one side of a currency pair and consistent weakness on the other side. These are the safest possible trade entries and will produce the strongest movement cycles, even on less volatile pairs.
Even slower moving pairs, like the EUR/GBP, NZD/USD or AUD/NZD can have very strong intraday movements slingshot on the heat map. Faster moving pairs like the EUR/AUD, EUR/NZD and pairs with the GBP on the left can produce 150-300 pips on one movement cycle in one trading session. When you get started with demo trading it is possible to easily make 1000 pips in the first 30 days by trading slingshots.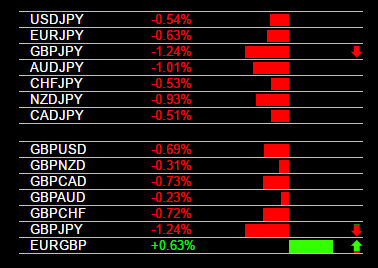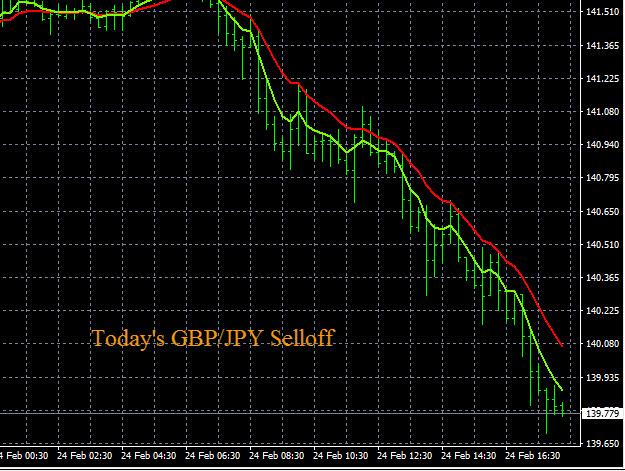 Here is an example of a slingshot. The GBP
is consistently weak and the JPY is consistently strong, so the GBP/JPY has a very strong selloff and price movement. The overall movement was about 175 pips and this pair also formed a new downtrend, and eventually proceeded much lower. In this situation the trader could sell the GBP/JPY, scale out some lots, then ride the trend further down over the next few days. This is likely the most profitable way to trade the forex. This is a great example of how powerful the Forex Heat Map
®
indicator is. You do not need to have a slingshot to trade with the heatmap, even if one currency is consistently strong or weak, profitable trade entries are possible in any trading session, day after day.
Forex Heat Map® Strategy - Supplemental Trades
Every day we prepare trading plans for 28 pairs that are based on the trends of the market that are based on the larger time frames. A supplemental trade is a trade that the heatmap points you towards that you may not have anticipated based on the trend analysis and trade planning process. Example
supplemental trade: Forexearlywarning publishes a trading plan for the AUD/CAD and USD/CAD for buys based on the uptrends on these pairs and the overall market analysis for the CAD pairs. Later in the main trading session you may get a buy signal on the GBP/CAD on the heatmap instead. This would be a supplemental trade. In the trade planning process we were expecting CAD weakness, so this was not totally unexpected. You can click on the link to review our complete discussion of what a supplemental trade is.
The audible price alerts that we set in our daily trading plans tell you when the forex market is moving, but spikes and fake outs on some alarms/pairs and a quick glance at the heatmap will tell you if the momentum is consistent across at least one currency. Price alarms will tell you when the market is moving, but the heatmap indicator may point you towards another pair not considered in the trade planning process. Here is the good news, supplemental trades can be very profitable and will allow you to take advantage of the day to day changing market conditions or unexpected outcome of scheduled forex news, for extra pips and profits.
Forex Heat Map
®
Discussion Items
The number one question forex traders have is what pair to buy or sell and when. The Forex Heat Map® indicator largely answers this question across 28 currency pairs. When you first get started with the heat map and the trading plans, you should start to demo trade immediately. Experience about 30 days of demo trading with the heatmap indicator in the main trading session and you will see pips come into your demo account.
During this first 30 day period The Forex Heat Map® indicator will open your eyes as to the true potential of 28 pairs as opposed to scalping one or two pairs. You will be an informed trader at all times and you will always know the condition of the forex market.
The Forex Heat Map® will prove to you quickly why other "systems" and "indicators" do not work because you can watch one system in action right next to the heatmap to prove that the other system is bad after just one trade entry. The Forex Heat Map® will assist in building wealth and generate pips for anyone who uses it correctly.
Outside of the Forexearlywarning client base it is somewhat astounding that traders know nothing about parallel and inverse analysis, which is the fundamental reason the heatmap works so well. Traders have no clue what drives movement in a currency pair. This leads to some very strange behavior and high risk taking by forex traders. I strongly advise becoming a student of parallel and inverse analysis to all forex traders. You can "own" the forex with smart tools like the heatmap along with multiple time frame analysis. Many traders have a bit of a mental block trading 28 pairs because they have scalped only one or two pairs for so long that they must now change their mindset. Traders must demo trade their way out of this mental block.
Whatever your current pip production is The Forex Heat Map® indicator will increase it, in most cases, dramatically. If you are not making any pips you will start to very quickly. Reviewing the information about parallel and inverse analysis will get you started in appreciating the solid fundamental basis for the heatmap.
Round out your knowledge about the heatmap by watching this professional 7 minute
heatmap video.
Heatmap Percentages
If you want to judge whether or not an individual currency is strong or weak it is not too difficult. Just look at the percentages on the heatmap and make sure all of the pairs in that individual currency group are all pointing in the same direction, strength or weakness, and all have percentage greater than 0.25%-0.30%. For example if all of the EUR pairs are green and all seven pairs have consistent percentages of over 0.25-0.30% the EUR is strong. We also have a heatmap alert system that will tell you when the signals are consistent on a currency group, and these alerts are visible on your desktop as well as mobile devices.
The heat map also has an arrow system that will appear when a currency pair is moving up or down strong. These arrows will not appear unless the individual pair is trading at plus or minus 0.26% or more so it is consistent with this criteria. If no arrows appear on the heatmap you can immediately tell there are no potential trades on the entire market in under 20 seconds.
The percentages on the heatmap are based on price movement. All pairs in the group must be consistent indicating strength or weakness in the currency before considering a trade. Calculating percentages for each pair is easy, for example if the NZD/USD trading at 0.8000, 80 pips of movement is 1.00%, just move the decimal point two places to the right in the price quote.
Forex Heatmap vs Technical Indicators
A heatmap is defined as a a visual display of large quantities of data presented with different colors for easy visual analysis. The Forex Heat Map
®
is truly a heatmap, with large quantities of pricing data flow through the readings in real time, but the heatmap can be scanned visually in about 30 seconds. Most forex traders use standard indicators, like average true range, bollinger bands, and a list of over 100 other indicators. These indicators are attached to an individual pair.
The heatmap cannot be attached to an individual pair, like a standard indicator. In fact the heatmap is composed of pairs, each pair is grouped with one common currency in each group. So the heatmap uses pairs to be "mini indicators" on the overall map, to produce the full view. You can look at the heatmap and view the entire market at a glance, rather than staring at one pair with one or more meaningless, ineffective standard indicators. The heatmap allows you to find the market momentum very quickly.
Currency pairs move because one currency is strong or the other currency is weak, or both. This is why traders like the heatmap, they are monitoring 28 currency pairs comprised of the 8 major currencies, not some standard indicator that nobody understands. The heat map displays what "causes" currency pairs to move. Forex traders are trading currencies not indicators, so start watching currencies on the heatmap, and move away from indicators. It makes perfect sense. Standard technical indicators attached to individual pairs are fundamentally flawed because they completely ignore the behavior of both individual currencies that comprise the pair.
Forex Heat Map® Strategy - Use As Part Of A Trading System
The Forex Heat Map® is synergistic. All by itself it is an excellent tool but if you combine the live heatmap signals with any of the other components of the Forexearlywarning trading system, your trade entries improve incredibly fast. The examples below are various situations of how combining the heatmap with just one other component of the Forexearlywarning system, will cause great improvements in trade entries for any trader. The Forex Heat Map® is an important part of the overall Forexearlywarning system. So here are some situations:
The Forex Heatmap
®
indicates a buy signal on a pair and that pair has no nearby resistance, this is a good situation for a trade entry by combining the heatmap with support or resistance.
A fresh trend cycle and moving average crossover on the H4 or D1 time frame combined with a consistent heatmap signal on at least one currency pointing in the same direction is a great situation for a trade entry. In this case the trader is combining the heatmap signal with the formation of a new trend cycle and good risk/reward ratio.
A pair that has been consolidating for a couple of days and going sideways has a news driver on one of the currencies in the pair. The pair starts a fresh movement after the news driver with a consistent heatmap signal. This is a good situation for a trade entry because the pair was consolidating ahead of the movement, and you are combining the consolidation phase with the heatmap.
All pairs in a single currency group indicate a consistent trend then the heatmap confirms the entry, for example all of the JPY pairs are trending higher. Then you can use the heatmap to confirm the entry with JPY weakness and know that the market trends support the movement.
The market is choppy on most pairs but you get a consistent heatmap signal on a particular pair. If you decide to trade you know the market condition, so you can trade less lots, scale out lots sooner, or not trade at all. In this care you are combining the heatmap signals with the market condition.
The EUR/JPY is consolidating and starts a fresh movement, but only the EUR is strong.
Generally speaking this is a good situation for a trade because it's a fresh movement starting after a consolidation. Then you can check the charts for the next resistance point or pip potential.
The GBP is strong on all pairs. The GBP/CHF and the GBP/JPY both have good heatmap signals for a buy, but the GBP/CHF is at the beginning of the D1 trend. Generally speaking you would buy the GBP/CHF instead of the GBP/JPY because it is near the beginning of the trend, allowing you more upside potential to ride the trend cycle. So knowing where you are in the overall trend becomes a great addition to using the heatmap.
Some economic news comes out and an audible price alarm hits from the trading plans. You see a strong CHF and the CHF/JPY has a fresh moving average cross trend on the H4 chart, do you take the trade?? In almost all situations, the answer would be yes. In this case you are using price alerts with the heatmap signals.
The EUR/CHF is consolidating but in a strong downtrend, the D1 and W1 time frames are trending down with no nearby support, a fresh movement down starts, the EUR is weak and the CHF is neutral. Do you enter the trade?? Yes, the trend is strong and the pair was consolidating so likely no slingshot is required.
You check the heatmap in the main session and the EUR/CAD is a slingshot with EUR strong and CAD weak. You check the H4 and it is trending with no nearby resistance. Do you take the trade?? Yes, most definitely. In this case you are combining strong heatmap signals with an established trend on the higher time frames.
After the GBP news drivers and you have a solid slingshot buy signal on the GBP/JPY in the main trading session. But this pair is inside layers and clusters of resistance. Do you take the trade?? Likely answer is no or be willing to back off on the number of lots you normally trade. For example if you normally trade 6 mini lots you may only trade 1 to 2 mini lots on this trade, then watch the trade proceed carefully until your stop at break even. In this case you are using the fact that you are inside of a cluster to regulate the way you use the heatmap, as opposed to trading a breakout. With breakouts you can trade more lots and be more aggressive. OR set a demo trade and see if this is a situation you want to include in your personal trading preferences.
The AUD/JPY starts to move down in the Asian session and moves 225 pips overnight, do you sell it in the main session if the heatmap signals are consistent? No, definitely not, this pair is too deep into the move, it has been moving for 12 hours, you missed it. You can see this on the smaller time frames when the movement started, so in this case the time frames assist with the heatmap to tell you not to enter.
If the heat map points you to an unexpected trade (supplemental trade) in the main session that is a slingshot look at the H4 chart, if the trend is good and there is no support or resistance, would you trade it? In most cases yes. This is a real time saver because you look at one higher time frame to assist with your trade decision.
The CAD/JPY is in a strong uptrend and goes up hundreds of pips for 8 days and stalls sideways for 48 hours. After a CAD economic news driver it has a consistent heatmap signal for a sell, do you sell it?? More than likely yes but you must recognize the situation that this is a short term sell trade and that this pair will likely drop for a couple of days, then eventually go back up into the major trend. In this case you can scale out lots as it continues lower and manage the trade more carefully.
You have a fresh or developing intermediate uptrend on the D1 time frame on the USD/JPY with some very minor resistance nearby. In the main session the USD is strong but the JPY is neutral, do you take the trade?? The answer is yes, because you have a fresh trend on a larger time frame.
You drill down the charts using multiple time frames on the CAD pairs and they are all bouncing around and going sideways and consolidating. however there are two strong CAD news drivers tomorrow morning like GDP or an interest rate decision. What do you do??? Wait for the news and consistent CAD strength or weakness before trading. Let the trade come to you after the market decides what direction to take the CAD.
If a currency pair has been consolidating for 18 hours or longer and the consolidation is fairly stable, then on the same pair a new movement cycle starts in either direction with a consistent heatmap signal, most of these situations can be traded because of the lengthy consolidation that preceded the move. Consolidation cycles are good before a fresh movement cycle, with heatmap confirmation.
The H4 or D1 time frame is oscillating and ranging between support and resistance. And a new up cycle is starting off of support. In this case you can use the heatmap signals along with checking the same time frames on parallel and inverse pairs to confirm the trade entry. In this case you are using a fresh trend cycle and parallel and inverse pairs on similar time frames to confirm trade entries. If the pair you want to buy is the USD/JPY, you can check the other JPY and USD pairs to see if they are also oscillating and ranging on the same time frames.
These situations above don't represent all possible trading situations, but at least they will get you thinking. Even though slingshots are the safest possible heatmap signals, many of these situation don't require one. Checking the major time frames, support and resistance levels, knowing if the pair was consolidating before a subsequent fresh move has started, after an economic news driver, knowing when the movement started, etc. are all situations that will improve your trade entries and greatly be enhanced with some consistent heatmap signals.
Any and all of these situations can be demo traded.
Forex Heat Map® Strategy, Basket Trades
Many forex traders refer to a basket trade as a trade where multiple uncorrelated pairs are traded at once. We have a better way to do this using the heat map. Our basket trade strategy is to set up a computer program, script or trading platform that buys or sell different groups of pairs with one common currency in the entire group or basket to be traded. This method of basket trading the forex is much smarter and much more profitable, it is also logical and intelligent.
So when using the heat map a basket trade is a trade on a preset group of pairs, all in the same currency family. For example if the CAD pairs all indicate CAD weakness, traders can simply push a button on their trading platform and execute a trade to sell the CAD on all 7 CAD pairs. When a
preset amount of pips of profit is made on the CAD basket, the program automatically scales out and sets all stops to break even. Which is extremely conservative because this is only 15 pips per pair average movement. In the image below most of these CAD pairs moved 75-150 pips.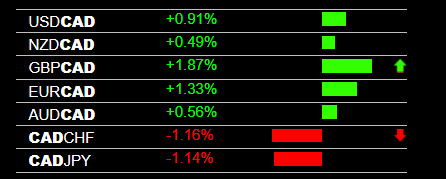 Smart trading tools like the heat map make a strategy like intelligent basket trading possible. Almost no forex traders trade this way and cannot even think this way, but Forexearlywarning traders can trade this way by understanding the parallel an inverse and currency strength forces in the market, support and resistance, and multiple time frame analysis. We do consider basket trading to be a more advanced trading method but we currently have clients who are doing this right now. Forex traders can execute intelligent basket trades week after week with this system.
Mixed Heatmap Signals /Inconsistent Signals/Neutral Signals
Sometimes when checking the heatmap in the main trading session the heatmap gives mixed or inconsistent signals. For example half of the JPY pairs are red and half of the JPY pairs are green, all of those pairs may not be good trades at all. The signals have to be consistent with all of the JPY pairs red, or all of them green. So during that trading session, do not consider any of the JPY pairs for entering new trades. We trade 8 different currencies and almost every day of the trading week you can
move to another currency and find consistent signals.
The best thing the heat map does is tells you what currencies to stay away from.
You must demo trade the heat map signals and remaining system components for a reasonable amount of time. But the ramp up time of going from demo trading to micro and mini lots is fairly fast.
The Forex Heat Map® indicator is an excellent risk assessment tool, if you see signals that are not clear or inconsistent you can reduce the number of lots substantially on your entry or not trade at all. For example if you normally trade 6 mini lots and see risk in a trade entry or heatmap signals you can reduce your lot size down to maybe 2 mini lots. Use common sense based on the risk factors you see in any trade. Keep your ego in check and keep stops in place, move stop to break even as soon as reasonable.
The first 30 days you have this system you can just trade slingshots during the main session to practice your entries and build confidence. The first month of demo trading you could realistically make 1000 pips or much more as this has been done many times by new subscribers to Forexearlywarning. If you do not demo trade you will not make any pips at all so start demo trading almost immediately and assessing trades to get used to the system.
Conclusions - The Forex Heat Map
®
can be described as unique, effective, time saving, fast, easy to interpret, visual, high value, novel, simple, powerful, flexible, necessary, innovative, intelligent, logical, big picture, accurate, real time, profitable, eye opener, educational, informative. The Forex Heatmap® also helps with time management, is a good risk assessment tool, and a great forex teacher. It shows traders why pairs move the way they do day after day.
Did you like this article? You can also read The Forex Heatmap
®
tutorial to learn technical details about it's operation.