What Is Forexearlywarning?
Forexearlywarning.com is a forex industry service provider for retail traders. Our main focuses are to show forex traders how to follow the larger trends of the market across 28 pairs, and to provide them with accurate trade entry signals.
List Forexearlywarning Services
Forexearlwarning offers trend based trading plans across 28 currency pairs and 8 different currencies. We provide a set of trend indicators to to potential clients to start monitoring the trends of the market with us. We also have various alert systems to notify traders when the market might be moving. Forexearlywarning also provides full time access to The Forex Heatmap® for trade entry management, along with backup heatmap systems. We also provide traders with 3 webinars each week for ongoing education, forex market discussion, and and trend analysis. We also provide a complete illustrated lesson package, video, audio and Youtube libraries. Our forex learning resources are second to none.
We also support our clients by email, phone and Skype. The cost of Forexearlywarning.com is $19.95 per month and there are no additional fees or up selling of expensive add-on programs. This is a complete trading system.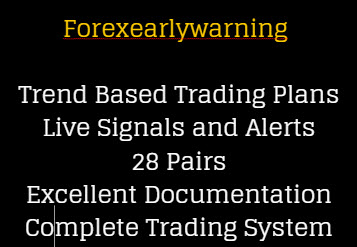 Trading Plan Preparation
At Forexearlywarning we use multiple time frame analysis and analyze different time frames on 28 currency pairs daily to prepare our plans. Our analysis of the market is by individual currencies. For example we analyze all of the GBP pairs together, then all of the AUD pairs together, then all of the USD pairs, etc. We use exponential moving averages, which we supply to our clients at no cost. We also analyze support and resistance on the same pairs and specify price alarm points in our plans. You can set the audible price alarms on your brokerage platform.
The alarm points are usually at critical support and resistance areas, usually short term support and resistance. Then we check the larger time frames for trends and pip potential using the same trend indicators. We also monitor and check the news calendar for volatile news announcements, which is also free to our clients. We always know the direction of the primary trends of up to 28 currency pairs and our clients are always informed daily in our trading plans. When the price alarms hit in the main trading session we verify all of our trade entries with The Forex Heatmap®, a real time visual map of the 28 pairs we follow.
What is The Forex Heatmap®?
The Forex Heatmap® is a real time visual map of the forex market and it tells you what pair is the best to trade and which direction. It works on the principles of parallel and inverse analysis as well as currency strength trading. This unique trade entry management system organizes a vast amount of data from 8 different individual currency groups and the data is presented as a simple visual map for trade entry verification. It is live in the market all of the time from Sunday night through Friday afternoon and is always available. Learn to enter trades without any technical indicators and rely on currency strength.
When combined with a simple trading plan and effectively setting price alarms at support and resistance levels on several currency pairs, you can effectively monitor the entire currency market for buy and sell entries across 28 currency pairs. You will increase your pip production substantially. Knowing the direction of the primary trend along with an entry management system like the heatmap, that visualizes individual currency strength and weakness is a powerful combination.
Does The Forexearlywarning System Produce Pips?
Yes, it produces a lot of pips. Most traders scalp the EUR/USD or GBP/USD with technical indicators. At Forexearlywarning.com we use swing to position trading on 28 pairs so naturally the pip production is substantially higher, because we track more pairs and use larger time frames. The traders execute the trading plans we issue and also find additional pips using The Forex Heatmap® almost every day of the week. On one day of strong movement our system can spot movement of over 1500 pips on the GBP pairs alone in one single trading session. The upside potential of this system is excellent.
Forex Webinars
Forexearlywarning also conducts webinars each Monday and Wednesday night. These webinars will help your trading as well as teaching traders our strategies and techniques. These forex webinars are open to clients and visitors. No registration or password is required, just click on the webinar room link to enter. If you are not able to attend the weekly webinars live you can still review all of the archived webinars audio and video archives. During our Monday night webinars we focus on chart reading and multiple time frame analysis.
Trend Indicators
Forexearlywarning.com provides their clients with a simple set of moving averages to conduct multiple time frame analysis. These indicators are for market analysis and for following our trading plans and the trends of the market. These free trend indicators can be installed on any Metatrader platform and can be mimicked on other charting systems. Our website has instructions to install the indicators. We use these simple trend indicators but apply them rigorously across multiple time frames.
Email, Phone, and Skype Support
One of our email boxes is for administrative and payment issues. We have a separate email box just for trading related issues. We also recommend all clients set up a free Skype account for communicating with us as well as other traders. If you are outside of the USA you will have to have a Skype account for voice communication.
When you contact forexearlywarning let us know if you are a current subscriber and use your username email address on communications if you are a member. If you are a client or non-client and would like to schedule a phone or Skype conference let us know by email with the best time to call and include your Skype ID and we can set an appointment.
Forexearlywaring Clients
Forexearlywarning.com has a wide variety of clients from rank brand new traders to 10 year veterans. Because of the amount of training material we include on our website and blog, our clients are largely more educated, knowledgeable and savvy. They do not believe in the garbage technical indicators and scalping that the forex industry forces on them.
Our clients have access to a trading system that works extremely well and many forex traders have left other trading methods and technical indicators behind. We keep our prices low to facilitate demo trading and trader development over the long term. It takes time to develop as a forex trader, if you get in a hurry we all know what will happen. The door is wide open for forex traders to turn professional and to make pips consistently with us. Our clients truly understand the forex and why pairs move.
If any of our clients knows of another trader who has given up on the forex you can tell them about what we offer and welcome them back, spread the word. Keep the community strong and make sure they are willing to do the work to understand this great market we trade.
This is not a black box system, we are 100% up front about how we analyze the market and how we enter trades, unlike all the other forex websites you see.
Clients of Forexearlywarning.com must demo trade, then trade micro lots, then ramp up to full scale lots over time, no exceptions. Why?, because it's the right thing to do. Set up the free trend indicators learn to use The Forex Heatmap® and start to monitor all of your forex trade entries. Get in front of the market during the main trading session and trade the forex market movements with us.
Forexearlywarning Is Different
If you are a forex trader and you have conducted numerous web searches looking for high quality trading systems, you were most likely disappointed by what you saw, here is why we are different:
Forexearlywarning does not have expensive forex education, all education is free.
We use trading plans every day, only a handful of traders plan their trades daily.
Most forex traders do not know when or how to enter trades, we verify all trade entries with The Forex Heatmap®
We do not use layers and layers of technical indicators that don't work, we use very simple indicators for trend analysis.
The system is profitable month after month.
Our monthly fees are the lowest fees in the industry.
Almost no one in the forex industry understands multiple time frame analysis, we use it every day.
Almost no traders use parallel and inverse analysis, we use it and teach it daily for market analysis and trade entry verification.
Most traders trade one or two pairs, we trade 28 pairs.
Our trading plans are simple and follow the logic of the market charts and individual currencies. We believe technical indicators combined with scalping that is prevalent and dominates the forex industry is completely ineffective.
We promote swing to position trading style. 95% of forex traders scalp.
The Best Way To Use Forexearlywarning.com
The best way to use Forexearlywarning is to read our website thoroughly and ask questions. All of this information is free. Trading the forex might be a lifetime endeavor and you must treat is as such. Then when you believe you understand our system set up the free trend indicators and you should be able to start paper/demo trading almost immediately after subscribing. If you would like to approach Forexearlywarning this way we would love to have you for a client.