Forex Charting Systems And Indicators
There are many forex charting systems available to traders. A basic charting system like Metatrader will suffice for any trader to get started with the Forexearlywarning trading system. We will provide you with instructions for your basic charting system setup to get you started,
along with some simple trend indicators. These charts are live streaming charts with built in audible price alerts. Over time as you progress to an intermediate or advanced trader, you may possibly switch forex charting systems, but the basic chart and moving average setup will remain the same, regardless of the forex charting platform you use. In this article we will also investigate other charting systems available to forex traders.
Basic Forex Charting Setup
Currency traders need a charting system that is adaptable to the trading system they are using. Because of the proliferation of forex charting systems and the vast number of technical indicators, some traders feel as if they must have the best charting system they can find. This is not necessarily true. Forex traders do not need the best charting system, they need the best trading system: one that consistently produces pips. After that they need a charting system that accommodates the system.
Most forex traders set up a demo or live trading account, then they start setting up their forex charting system that is provided by their broker. This is pretty standard procedure.
The only problem is that they have no idea how to set up the charts, what indicators to use, or why they are using them. They do not know where to begin, so we will give you everything you need in this article.
The Metatrader charting platform is provided by most forex brokers. It is a basic charting system for beginner traders to get started with. Once you have downloaded your Metatrader platform, you can set up our free trend indicators. Then you can learn how to set audible price alerts to monitor the market for price breakouts. We can also give traders options for slightly more advanced charting setups like Metatrader profiles. Our forex video library covers all of basic forex charting setups.
Any forex charting package that has exponential moving averages, audible price alerts, at least 9 or 10 time frames, and some type of tool to visualize support and resistance levels, would be sufficient to use with the Forexearlywarning trading system. After that we might suggest some optional things like additional time frames. At that point it is completely up to the end user and their personal taste to decide what charting system they like best based on the user interface and chart display.
Indicators In Forex Charting Systems
When beginner forex traders see all of the indicators that come with most forex charting systems, they become interested in trying them. This is a natural curiosity, but it is also usually the beginning of the end of most forex trader's chances of being profitable. This is because technical indicators do not work. Some of the more common indicators that come with charting systems are fibonacci retracement, RSI, bollinger bands, etc, and there are over 150 indicators total. Traders seem possessed with having layers of fancy indicators on their charts that look great but unfortunately are all completely ineffective.
There is no proof whatsoever that these indicators work, and independent studies now indicate that technical indicators are useless. Trading the forex is a business, and having layers and layers of indicators will not make you one single pip. You must set up your charts logically and the logic must match the logic of the forex market. The Forexearlywarning trading system is highly effective at making pips across 28 pairs, and we only use exponential moving averages and audible price alerts that are available on most charting systems. We use none of the other indicators provided by all broker charting systems and third party charting systems. Beginner traders have to resist the urge to try to experiment with all of these indicators as it will wreak havoc on your trading success.
There are over 150 technical indicators with an infinite number of combinations. These indicators have caused mass confusion among currency traders and they are completely ineffective and lack any form of logic. Forex traders need simple indicators that work, at Forexearlywarning we use very simple trend indicators.
Exponential moving averages are the most important indicators in your forex charting system. This is because the Forexearlywarning system is a trend based system, focused on the higher time frames. There are several types of trend indicators available for analyzing the forex market. Using very simple exponential moving averages across multiple time frames for market analysis, and applying them to individual currencies is a clear winner. Total forex market analysis will be possible, and the indicators themselves are not complicated at all. This is how we construct our forex trading plans. Using this simpler chart setup allows a trader to view the trends of the market quickly.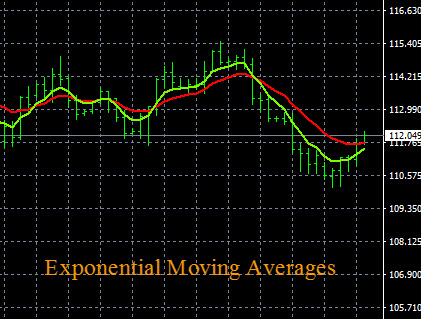 Locating levels of support and resistance on the various time frames at a glance is a feature you should look for on your charting system. Having a set of support and resistance level "cross hairs" on your forex charting platform is a truly helpful functionality. You can click on a button on the charting platform and slide the cross hairs across your chart to find the support and resistance levels quickly. This will help you to set price breakout alerts, locate price targets and estimate risk to reward ratio of every trade in advance. See the white lines below in the image for an example of the cross hairs.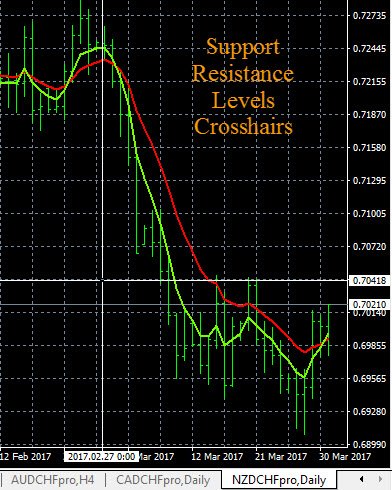 Multiple Time Frame Analysis
Whatever forex charting systems you choose, it must accommodate multiple time frame analysis. If you can set up your exponential moving averages across individual currencies, and you have at least 9 time frames, then you should be set. This way you can analyze individual currencies along with all 28 pairs we trade. Multiple time frame analysis is a powerful weapon for forex market analysis. It reveals everything about any currency pair, i.e. trends, oscillations, consolidations, and choppiness. This is the analytical technique we use at Forexearlywarning to prepare our trading plans.
Forex Charting Systems Providers
You have several choices of forex charting systems from various providers. There are charting systems provided by brokers, and there are third party charting system vendors. The charting systems provided by forex brokers are mostly free and included with your forex brokerage account. Some of the third party charting system vendors charge a monthly fee for their charts. Many charting systems are downloadable, like Metatrader, and there are also web based charting systems that you can view on your browser just by logging into a website.
We searched the internet and reviewed about 25-30 forex charting vendors with "professional forex charting systems". Some were free and some were up to $200 per month. Some were web based html charts and some were downloadable charting platforms. Some of the charts interfaces looked great but at the end of the day they were simply repackaged technical indicators. Some of the websites had fancy pictures of Iphones and Ipads but this is a marketing gimmick. Some broker based charting packages required a $10,000 minimum balance, while we are aware some brokers require much smaller minimum deposits on live accounts. There was no information on how to make pips, that is up to the end user. The enticement was to trade more frequently, not to trade accurately or successfully. At the end of all of this you still need a trading system that works, and none of this was provided.
Conclusions About Forex Charting Systems – We do not see why it is really necessary to have a high end professional forex charting system, or a paid charting system, to successfully trade the forex. What you really need is a trading system that produces pips. The Forexearlywarning trading system is a profitable system, and it only requires exponential moving averages, audible price alerts, and support and resistance visual tools, which are available on most basic, free, or broker provided systems. The only reason you would switch to one of these high end forex charting systems is if you strongly preferred the user interface and it was free.