Forex Training For Trend Traders and Day Traders
The forex training resources on our website can be used by any trader to learn how to trade the forex market. We can teach any trader how to enter trades for a day trade, but if the pair they enter is also trending then you can manage the trade as it continues in the direction of the trend. The forex training resources we have on our website include illustrated articles, a video and audio library, and live weekly webinars. Our forex training resources will describe our trading system in detail, and we believe our trading system is the best in the business at producing pips across 28 pairs.
Forex Training - System Components
The training resources for the Forexearlywarning trading system cover some of these major components or areas of competence:
Trend Analysis Using Multiple Time Frames,
Support and Resistance,
Parallel and Inverse Analysis,
Writing Trading Plans,
Trade Entry Verification and Money Management, Broker Selection, Using the Economic Calendar, Best Times To Trade The Market, Currency Pair Characteristics, and the list goes on.
This type of forex training is very different from what we see most currency traders doing, or what we see on other forex websites. Most traders are scalping one or two pairs with technical indicators or using robots, all of which fails. We focus on the higher time frames and trends and use almost no indicators at all, we also trade 28 currency pairs. Our system and methods are based on trading with the trends of the market. You can also use our system for shorter term day trades, if the market is ranging. It takes most experienced traders a while to get used to our methods, but our system is highly effective. If you seek the knowledge first the pips will come naturally, and almost all of our forex training resources are free.
What Can You Expect to Learn
After reviewing and fully understanding our forex training resources, traders should be able to analyze the entire currency market or any pair. Traders will always know what pairs are trending, more exact criteria for entering trades, and how to manage profits with stops and scaling out lots. Losses should be small with some break even stops. Traders will also know why pairs move. We have a full and complete trading system.
With our website training resources and weekly webinars we will teach you to analyze the trends across the forex market across 28 currency pairs. You can set up our free trend indicators and
become a trend follower with us.
Then learn how to enter trades in the main trading session using The Forex Heatmap®, support and resistance, etc. We have a library example trading signals to study so that you will know what an exact
entry point looks like.
Our forex training resources have benefits to both trend traders and day traders. After you review our resources, videos, tools and live alert systems, you will be ready to start demo trading. As each demo trade proceeds you can choose to day trade with our system, or hang on to your trades much longer in the direction of the larger trends and time frames. Example: If our system gives you a buy signal on the GBP/USD, and you take the trade, the GBP/USD might be in a long term uptrend on the higher time frames. In this case you can scale out lots and move your stop order to break even, and ride the trend. But if the GBP/USD is in a downtrend, you can treat the trade as an intraday trade or short term day trade against the trend, or else not trade at all. Trend traders and day traders can benefit either way.
You can compare our forex training program to the other training available via online searches. We are completely aware that other online courses and training videos are available from other providers. Most of these forex training courses are completely deficient and will lead to losses and confusion. The online training courses we have seen are based on technical indicators with poor money management ratios, or scalping, with price tags of up to $25,000 or more.
Example: We see training articles online that explain the importance of having a trading plan, which we agree with. The difference is that, in our training resources, we tell you step by step how to prepare a trading plan for any pair, or group of pairs, how to set up the indicators, and our methods are specific, exact, and repeatable.
Forex Training - Illustrated Articles
Our forex training resources include illustrated articles that completely detail our profitable trading system. We have a series of 35 forex lessons that traders can review, along with a series of forex articles to supplement the 35 lessons. If you are more of a rank beginner forex trader we would suggest starting with our trading course for beginners prior to reading the 35 lessons and articles. Traders can even read these illustrated forex articles prior to subscribing, so they are comfortable with our trading system. You would have to read these articles anyway if you are thinking of subscribing, so go ahead and start reviewing the training resources now. The articles can be printed out or converted to pdf files. After reviewing these forex training articles you can move on to our video library.
Our forex beginners course and 35 illustrated lessons package has also been converted to audio if you prefer forex MP3 audios for online listening or listening on any mobile device.
Forex Training - Video Library
When you have completed your review of the illustrated lessons, you can move next to the video library. Our forex video library covers various options for setting up our trend indicators, how to set audible price alerts, and how to use The Forex Heatmap
®. We have a second
forex video library on Youtube
that provides video guides for all of our written and illustrated lessons. After you review our written articles and forex training videos you will be on your way to setting up a demo account and beginning demo trading.
Forex Training - Weekly Webinars
For ongoing forex training you can join us on Monday and Wednesday nights USA time for our
live forex webinars
. If you are unable to attend the live webinars, we archive them for later listening. In the webinars we analyze the forex market live using multiple time frame analysis, we also cover one lesson each week from our forex training package. We also provide expert forex market commentary and project what pairs and currencies will provide trends and movement going forward.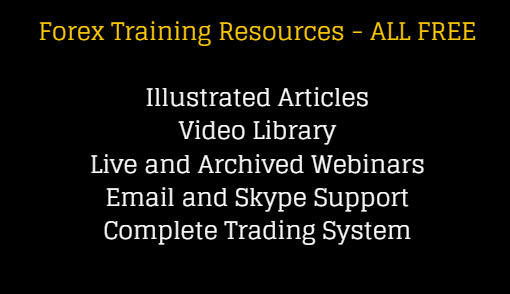 Review Our Training Resources
If you are a rank beginner forex trader you can review our forex beginners course first. Then move on to the 35 illustrated forex lessons and video library.
Continue studying until you are comfortable with the system an information.
Feel free to email us any specific questions you have about the training resources or system.
Traders can contact us by email or we can speak to you on Skype.
Traders can then set up a demo account with an online forex broker. T
hen set up your trend indicators and learn how to set audible price alerts.
After some successful demo trading you can begin trading micro lots with stops, then scale up to mini lot trading. Over time you can ramp up to full scale lots.
Learn how to read the charts with multiple time frames, build your own trading plans, enter live trades and manage your profits.
At that point you will be ready to trade our system effectively for the long term.
Our Forex Training Is Cost Effective Will Lead To More Pips
The forex training package we offer is the best in the retail trading industry. We show you the best way to analyze the entire market, and we show traders how to enter trades with specific criteria. Due to our focus on the higher time frames, the money management ratios we use are much higher than the scalping that is prevalent in the forex industry. Our trading system is also highly logical, unlike the layers of technical indicators most traders are using. Our live signaling system, the Forex Heatmap
®
, is highly logical. An example sell signal for the AUD/USD
is shown below
.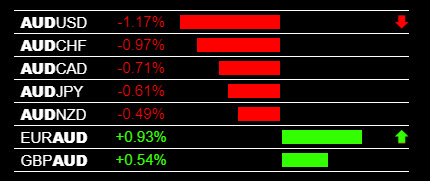 Along with trading more profitably, you will find our training resources to be completely cost effective. Our resources are free. We are completely aware of the very expensive forex training courses that are available now. With our free training resources we cannot only save traders a lot of money, but that money can be well spent funding a live account, when you are ready. Forexearlywarning would like to be your cost effective training partner.
Finding a good partner, which is nearly impossible in the forex industry, but is now close at hand with our trading system. We invite all forex traders to compare our complete and profitable trading system to anything else, and you will be convinced that our trading system is the best.
We can virtually warrant that we can turn things around for any trader who has had no success for years. We know this because we have done so for a large number of traders.
Don't wait until you are in trouble to seek a good partner, seek effective counseling early on in your forex career before you get into trouble and avoid the traps most traders fall into. Do not spend money on expensive courses until you review our forex training resources.
Every trader who is not trading with the right knowledge and a trading plan in front of them is in trouble, but we can fix that quickly at no cost.