Forex Broker Selection, List Of Criteria
In this article we will provide forex traders with a list of forex broker selection criteria. We will also provide some suggestions as to what additional criteria you may need to select a broker for using with the Forexearlywarning trading system. Forexearlywarning cannot make direct recommendations for who to use as a broker but this article has links to some third party suggestions to make a good forex broker comparison.
Criteria 1 - Ask your broker what the minimum deposit is for each live account, for trading with the Forexearlywarning system you will start trading with live funds with micro lots, so make sure you fund the account initially with around $1500. This will accommodate the fact that some pairs now have higher margin requirements than in the past. If you are trading with leverage greater then 50:1, the initial deposit can be lower.
Criteria 2 - Get a list of what pairs are available to trade with your prospective broker. At Forexearlywarning we trade 28 pairs, all comprised of the following 8 currencies: USD, CAD, EUR, CHF, GBP, JPY, AUD and NZD. This should not be a problem as most brokers have many more pairs than this.
Criteria 3 - Ask your prospective broker if they have permanent demo accounts, some brokers have demo accounts that expire every 30 days, then you must renew it. This is a hassle. Make sure you can your keep the same demo account for long term demo trading with trends on the larger time frames. Some of your demo trades may be open for months since we trade with the larger trends and time frames. At Forexearlywarning we ask all clients to demo trade our system before moving to live funds, so demo trading accounts are essential.
Criteria 4 - Leverage is currently 50:1 in the USA, higher leverages can be obtained with brokers based outside of the USA. Some broker platforms have adjustable leverage to lower than 50:1.
Criteria 5 - Find out what are your deposit guarantees. If you make a deposit into a forex brokerage account and the firm goes bankrupt what protections and guarantees are provided, get this in writing. Is the account insured? Are your funds segregated, safe and fully protected? This forex broker selection criteria cannot be overlooked, keep your funds safe!
Criteria 6 - Traders can use any trading platform they want with Forexearlywarning, we suggest starting with Metatrader, which is available from most brokers. You can easily set up our free forex trend indicators on this platform and learn to set price alerts on various pairs. After you get more experience with our system you can switch to any brokerage platform you wish. Web based execution systems are fine. IF you are away from the computer a lot, using your cell phone to manage open positions also works well, like moving stops and scaling out lots. Find out what "mobile" tools your broker offers. We give price alert points in our trading plans to detect potential breakouts. You can set audible price alerts on Metatrader very easily, see the image below, price alerts to your cell phone are also available, check with your broker on how to get price alerts delivered to your cell phone via email. YOu should also load your broker's phone number on your cell phone for mobile use.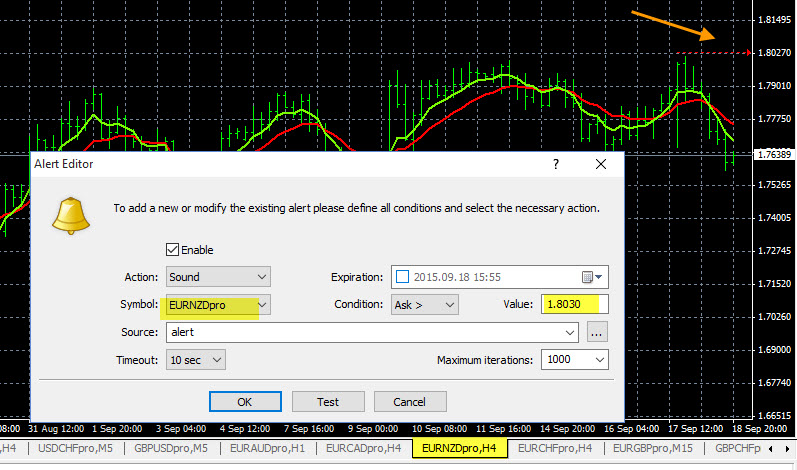 Criteria 7 - Ask the broker or check their website to see what support options they have. Make sure they have phone support, live chat and email support. Also check things like their weekend hours to make sure you get the customer service and support options you want.
Criteria 8 - Make sure your broker of choice allows you to trade micro lots. Make sure you can set position sizes to 1 micro lot, 2 micro lots, etc. Micro lot accounts are flexible, because traders can continue to scale up to 1 or 2 mini lots just by trading 10 or 20 micro lots. This allows you to ramp up to full scale lots as you are progressing. Trading with micro lots is a bridge between demo and full scale lots, and is always suggested for using with our trading system.
Criteria 9 - Determine what regulatory agency regulates your broker, based on what country the broker is based in. For example the CFTC regulates brokers based in the USA, the FCA regulates brokers based in the UK and the CIPF regulates brokers based in Canada.
Criteria 10 - Forex traders are always concerned with getting the lowest spread, but when comparing two brokers as long as the spreads are reasonably close to each other on the 28 pairs we trade, go with the broker that has immediate trade executions and fills. Since we trade with the higher time frames at Forexearlywarning and tend to stay in trades much longer, having the absolute lowest spreads is not really necessary.
Criteria 11 - This is one of the most important forex broker selection criteria. Ask your prospective broker if the trade executions and fills are immediate on market orders. When you place an order to buy or sell you want straight through order processing when you click the button on your computer to buy or sell. No delays and an immediate fill of your order. All trusted forex brokers have immediate executions.
Criteria 12 - When using the Forexearlywarning trading system, we often recommend scaling out lots on profitable trade entries. Be sure your trading platform facilitates this. For example if you buy 5 mini lots and are 50 pips in profit, you should be able to scale out lots (take profit) on 3 mini lots or keep 2 mini lots in your account, or some combination. Make sure your broker can facilitate exiting some of your lots when profitable, it is called "scaling out" lots.
In addition to these forex broker selection criteria, it is important to remember the role of your broker. Brokers are strictly intermediaries, if you trade more frequently they make more money. Brokers are not interested in you making a profit they are interested in their own profit. Never get trading signals from a broker, they only encourage scalping and frequent trading, which increase their profit. There are many "forex signals" websites that are sponsored by brokers which is a conflict of interest. Ignore the marketing and sales pitches on broker websites.
As far as the user interface on Metatrader, remember Metatrader is how we suggest traders get started with our trading system. After you have been trading for a while you can start looking at other brokers with different user interfaces and charting systems. You will probably see some other platforms or web based platforms that could suit your needs. We encourage all experienced traders to try several brokers and trading interfaces to see which ones they prefer. Always open a demo account to see the user interface on any broker, then decide if you like it in demo mode. There is some trial and error here and personal preferences involved. Make sure your platform of choice will allow setting up our free forex trend indicators and moving averages across the standard time frames.
When you open a brokerage account all traders must sign off on the brokerage agreement. Please take time to read this document. If there is any dispute between you and your broker this is the document that will govern the outcome with any dispute of any kind including how orders and stops are filled. Remember the only thing that matters is what you have in writing.
Forexearlywarning cannot legally make broker recommendations, but we found two lists of NFA registered forex brokers. These are third party lists from independent providers:
List of NFA Registered Brokers
Second List of NFA Registered Brokers
Forex Broker Selection, How The Spread Is Created
This section is to show how the spread is created on a straight through processing or ECN broker platforms. All of the retail traders and liquidity providers and in the same electronic market side by side and the spread is created by the highest bid and the lowest offer from all participants. This is what creates the spread.