Forex Reversals How To Identify and Trade
In this lesson we will explain how to spot forex reversals, and how to trade them profitably.
We will focus on reversals that take place on the higher time frames. The methods we describe for locating and trading reversals is proven and
accurate. Traders will increase their ability to trade reversals profitably. Trading reversals
is important because a reversal is usually a fresh movement on an H4, H1 or larger time frame,
by nature, which means you are trading at the beginning of a move, which you can usually ride from 1-3 days
or possibly longer.
Time Frames To Use For Forex Reversals
We use multiple time
frame analysis at Forexearlywarning so we always check the higher time frames first.
Also, forex traders know that the larger time frames have the most pips, so why mess around with
reversals on the smaller time frames?? The techniques in this lesson can be used on reversals down to the H1 time
frame and still maintain a good money management ratio. If a reversal is spotted and the movement
is in the opposite direction of the major trends, you will always know this by checking the
higher time frames first.
Several Types Of Forex Reversals
There are several types of forex reversals. The first type is when a pair comes down, then
stalls at support and goes sideways for a long period of time before reversing back up.
The second type of reversal is a V shaped reversal. The pair comes down and does a "V"
shaped reversal or pivot off of support or some economic news driven reversal.

These are hand drawn sketches of forex reversals, we also have actual chart reversals examples shown below. Since we trade 28 pairs at Forexearlywarning, lets specify one pair to use as an example for the two sketches above. Let's assume the pair we are discussing is the GBP/USD. If the GBP/USD cycles down for many days and begins to consolidate and move sideways (left sketch), you should suspect a reversal is possible, you can begin to monitor for a reversal/breakout back to the upside with an audible price alert. You can set this up on any trading platform in about a minute. If you set up an audible price alert where the red line is at, this pair may be reversing. Audible price alerts can be used as a forex reversal indicator.

Then you can check to see if The Forex Heatmap
®
confirms a buy with either GBP strength or USD weakness or both. Parallel and inverse analysis is the logic behind the heatmap and it is a powerful weapon when trading forex reversals, and it is probably the best of all available trend reversal indicators.
V shaped reversals (the above sketch on the right) require a bit more skill to trade but it can be done. Tools
like The Forex Heatmap
®
are high value tools and make it possible, along with watching the economic
calendar for strong drivers, and knowledge that the market on the GBP or USD pairs are not trending. For example, if the GBP/USD drops and makes a V shaped reversal it will likely
be in the main trading session after a GBP or USD economic news driver, and these news drivers happen
at specific published times in advance. This makes it easier because you can be in front of the computer at the time of the scheduled economic news. Also, the heatmap will tell
you if the GBP is strengthening for the reversal.
In a non-trending market you can get very frequent V shaped reversals on the H1 and H4 time
frames. Just drill down the charts daily with multiple time frames and always start with the
largest time frame to check the major trends. If there is no trends on the larger time frames,
expect to see many V shaped forex reversals on H1 and H4 time frames repeatedly every few days.
Lastly, if the GBP or USD pairs are cycling up and down every couple of days and these pairs are not trending on the larger time frame, it is a pretty safe bet that they will continue with more V shaped reversals until trends form on at least one of these groups of pairs. Analyzing the trends across multiple time frames makes spotting V shaped reversals much easier, they will start to become more obvious as you gain more experience reading the charts.
Example GBP/NZD V Shaped Reversal is below.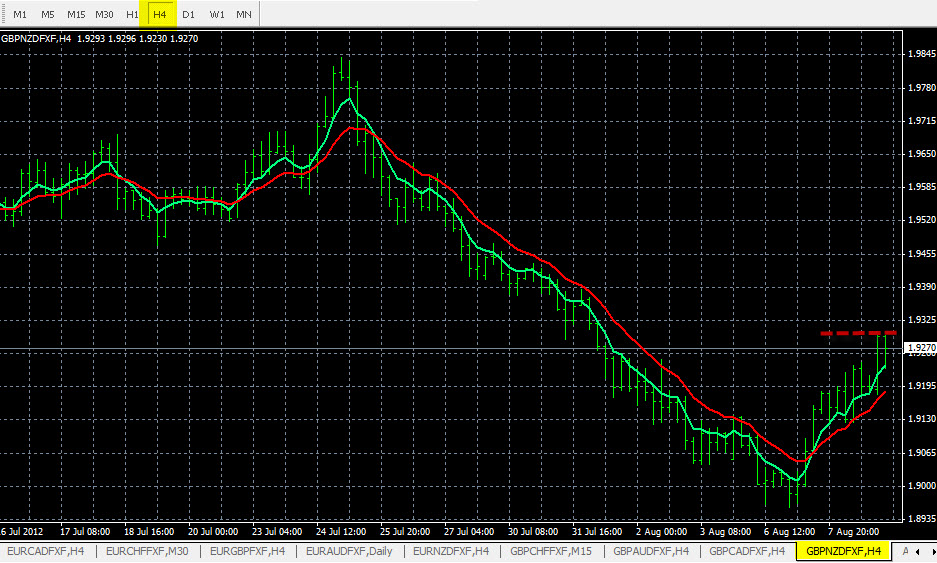 The third type of forex reversal is when a pair is oscillating or cycling between support and resistance on a
larger time frame, in a smooth fashion. These are fairly easy to spot and trade, see the example below. If the currency market is not trending, it may be oscillating, if you find some smooth oscillations giving you a series of reversals, just continue trading it in two directions.
When a currency pair is oscillating between support and resistance, this is a form of a
reversal in two directions, we look for pairs that are cycling and oscillating in a smooth
fashion and prepare trading plans on these pairs, week after week. On oscillating pairs
you can see the smaller time frames build the reversal and they are a great learning tool to see
how the smaller time frames feed the larger time frames, as the forex reversals develop over a few days.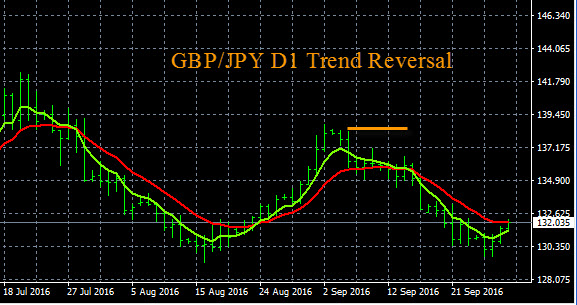 In this image above, the GBP/JPY reverses 2 times and is getting ready to reverse off of support again on the D1 time frame. Since nearly 800 pips is possible, traders would want to take this seriously. We would advise breaking up the GBP into two separate currencies and analyzing both currencies to see what is driving the reversal. Line up all of the GBP pairs and all of the JPY pairs to see what is driving the GBP/JPY back up. Is the GBP strengthening ?? Is the JPY getting weaker ??
This is called parallel and inverse analysis and it is quite powerful.
A fairly smooth oscillating market generally oscillates on many pairs, so these are easy to spot.
Usually when you see one pair is oscillating in smooth cycles, other pairs in one of the same
currencies are usually oscillating too. For example if the USD/CHF is cycling up and down on the H4 time frame between support
and resistance, then you notice that the EUR/USD is also cycling in the opposite direction
on the same time frame, you know that the USD is controlling the movements. Monitoring the market for oscillations is a great forex reversals strategy. Smooth oscillations on the larger time frames are excellent forex trend reversal patterns.
In a strong trending market, you can also have reversals. If a currency pair drops for many days in the direction of the major trend, then stalls and goes sideways, as a trader you have to think about a reversal. So if you missed the large move down start to look for the reversal back up.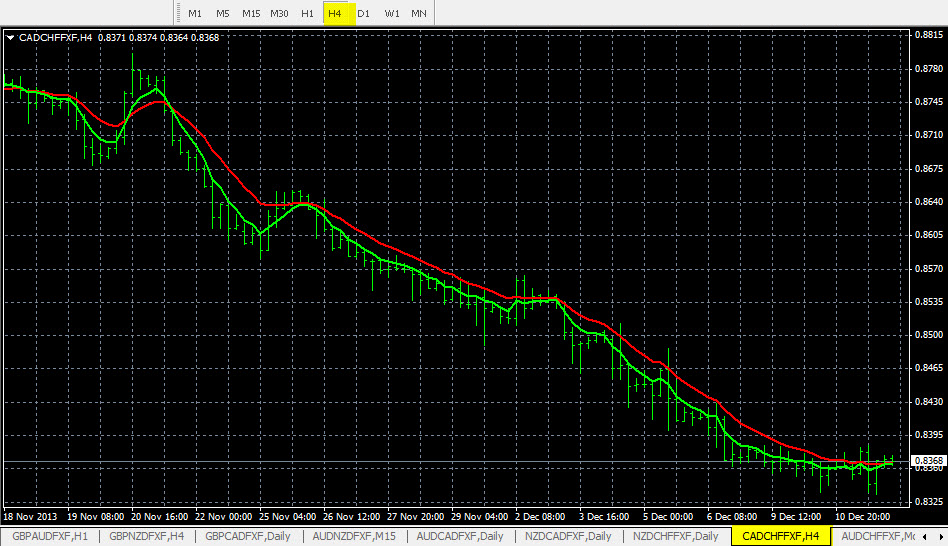 If you are trading a reversal the on H4 time frame against the trend on the MN time frame eventually the pair will reverse again back into the major trend. Look at the example above, the CAD/CHF has dropped about 400 pips but is stalling at support. You can set a price alert and monitor the forex heatmap for a reversal and catching a 100 pip move is very likely. Great chart setup for a reversal.
Rules For Forex Reversals
Only trade reversals on the larger time frames H1 time frame minimum, keep your risk reward ratio in line.
Look for a reversal after a pair has moved many days in the same direction but is now sideways.
Don't worry about missing a long move, catch the reversal !!
Watch the news calendar and pairs in the same currency group, look for news calendar reversals.
Use audible price alerts and The Forex Heatmap to monitor for forex reversals.
Know the market conditions, trending versus non trending, so if you trade a reversal against the major trend make sure you are aware of this fact using MTFA.
Pairs can reverse for other reasons like double tops and double bottoms, check our lesson on chart patterns to learn more about these other types of reversals.