Retail Forex Trading, Industry Improvements Needed
This article will compare and contrast where the retail forex trading industry started and where it has progressed to since retail trading became available to the public. We will examine the different parts of the industry that affects forex traders. Parts of the industry like r
etail forex brokers, forex e
ducational providers, i
ndicators and trading systems, and forex w
ebsite quality.
In 2000, the
CFTC
won the authority to regulate forex trading and by 2008 most of the major problems were cleared up related to regulation of the industry in the USA. But more problems persist. When retail trading became available to online traders, the advantages over trading the stock and options market were very clear. Liquidity and leverage were built into the market. Equity, index and options traders worldwide became immediately attracted to the forex market. As of November 2012 this daily turnover had exceeded $5.0 trillion per day, and $1.5 trillion per day of this total was retail forex trading.. Thousands of people open retail forex trading accounts every year, and 24 hour trading and leverage are the drawing cards.
Retail forex trading is a smaller sector of the overall forex market. Individuals can set up trading accounts with a forex broker and access the global currency market for intra day trading, swing trading, speculation, or position trading. Retail traders can also use margin and leverage, which is another attractive feature. In some retail trading advertisements, retail trading has been promoted as an easy way to profit, and retail traders must be careful who they give their funds to to avoid fraud or scams.
Retail Forex Trading Brokers
When retail forex trading first became available to individuals there was only a handful of brokers operating dealing desks. The situation facing retail traders was wide spreads and generally low quality executions and slippage, except for a few pairs like the EUR/USD. Account deposits were not protected, segregated or insured.
More changes in the laws took place, providing more protections to retail account holders. Broker net capital requirements were raised substantially, and the number of introducing brokers started to drop substantially. True competition set in and spreads have been dropping over time due to advances in execution systems and increasing liquidity.
Most brokers have gone from dealing desks to direct access platforms and variable spreads, and immediate executions or straight through order processing. This is an improvement and the progression has been positive over the years. This trend should continue due to competition between forex brokers.
There is still good competition and an ample number of brokers.
The amount of differentiation between brokers is becoming limited and the difference between any two forex brokers is now minimal.
Forex brokers have no interest in you succeeding as a trader, they just want you to trade frequently so their profits rise. But be realistic, it's not their job to make you a successful trader. They are strictly an intermediary.
More recently with the shift to direct access trading, spreads have been tightening and should continue to tighten more on the 28 most actively traded pairs comprised of the 8 major currencies. Also more brokers are offering FDIC type of insurance for deposited funds as traditional stock brokers move into the forex broker space. These are all strong positives for retail forex traders. We offer our clients and website visitors a good quality forex broker selection guide.
Also the brokerage area sector are introducing brokers (IBs). Introducing brokers are referring agents, referring retail traders to the primary broker for a fee. IBs are compensated by splitting the fee or spread income on each transaction for the parties they introduce to the primary broker. Liquidity providers are also part of the brokerage space in the retail forex trading industry. Liquidity providers act as a market maker and stand ready to buy and sell currency pairs at specified prices. By having a lot of liquidity, forex trades execute faster and the market flows faster and smoother. Also, spreads become more competitive. Anyone can function as a liquidity provider, a commercial bank or even a retail trader who offers lots for sale or purchase.
Forex brokers are regulated by different government entities. If you open an account with a broker based in the USA, the broker is regulated by the Commodities and Futures Trading Commission (CFTC). Here is a list of forex broker regulators from around the world.
Forex Education Providers
The retail forex trading industry has a lot of problems in the education area. There is a substantial number of forex education websites and many educational providers. There is a lot of information, but the information is mostly very bad, and dominated by ineffective technical indicators. There are also education providers charging thousands of dollars to individuals for forex education, but when it is all over the traders have no idea how to trade successfully. Some forex education programs can range as high as $50,000 for just basic information. Much improvement is needed in this part of the retail forex trading industry, and traders need to not spend any money at all until they are completely sure of what they are getting. To compound the issue, most of the websites with free information about forex trading are just as bad or worse.
The amount of educational material about trading the foreign exchange has increased along with the number of websites, blogs and forums, but once again the quality is very bad. 99% of the information available on websites about how to actually trade the forex is completely wrong. Or you see website after website with repetitive information like news calendars and technical indicators that do not present any complete or cohesive trading systems. This does damage to retail forex traders, who have to wade through the sea of bad websites looking for a reliable trading system.
Indicators and Trading Systems
Retail forex trading is somewhat dominated by technical indicators. Traders see the indicators on their trading platforms and the traders presume that they work to make pips. Unfortunately, technical indicators don't work at all, creating frustration among traders.
One other sector of the retail forex trading industry is robots and expert advisors. The concept of a computer program that executes decisions and trades for you is a great concept. In practice and real trading, these expert advisors and robots do not work and are extreme time wasters. Forex robots are based on the same failed technical indicators that traders use in manual trading. Remember, the vast majority of retail traders fail and they all use technical indicators and robots. So it would stand to reason that you would completely avoid robots. Robots do not account for trading sessions, news drivers, trending versus choppy market, consolidations, individual currencies, and about 10 other variables, so robots will always fail.
A complete trading system would include full instructions for how to analyze any currency, any pair, or the entire market. The system would give you accurate indicators for entering trades, and full guidelines for managing money and profits. To our knowledge, few if any complete trading systems exist in the retail trading space.
We invite all traders to check out our website for a full and complete trading system, with all details and documentation for our complete trading system.
Our individual currency approach will convince you that it is the best forex trading system available, and perhaps one of the only systems available.
We do not see any other websites that use multiple time frame analysis of trends and our individual currency approach.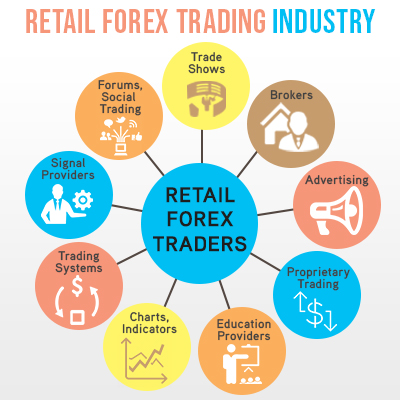 Retail Forex Trading Websites Quality
Traders would expect any important participant in the retail forex trading space to have a website with great content and trading systems, but this is not the case. Much improvement is needed in forex website quality. Traders can break down the industry into many of the categories reviewed below:
Broker Websites and Introducing Broker Websites
The amount of educational information on broker websites has improved and this somewhat encouraging. Basic education about brokerage like how to place market orders or stop orders is presented on broker websites. Quality of broker websites has improved greatly over the years, as these websites are regulated. Executions and spreads are improving in favor of traders on trading platforms. As far as brokers providing methods of successfully trading the forex market and being profitable at trading, they are of almost no help, and are largely detrimental. It is not a broker's business to give you good trading systems. Introducing broker websites seem to be focused on marketing only and getting traders to open an account. Do not think brokers will help you to be a successful trader, it's not their job to give you a profitable trading system. Make sure you know what country the broker is domiciled in before opening an account, and the regulatory structure that protects your funds.
Charts, Tools, and Indicators
The forex industry is dominated and also decimated by technical indicators. Since the vast majority of traders fail it is easy to figure out that technical analysis and technical indicators are largely responsible for this. If you research this thoroughly you will not find one shred of proof that technical analysis actually works at making pips. All traders use indicators differently and without regard to any current market condition, trading sessions, or consistent written trading plans, and none of this seems to be changing. This sector of the retail forex trading industry is a mess, with websites everywhere promoting standard technical indicators.
Forex Signal Providers and Trading Plans
Forex signal providers and their associated websites are part of the retail forex trading industry. Signal providers generally charge very high prices up to $225 per month and most of them go out of business. Some "free signals" websites require a live trading account and the signals are worthless. These websites, upon closer inspection, are a "front" for an IB operation. Signal providers and forecasting services are very secretive about their methods, no explanation of how the signals are arrived at. Forex websites that offer trading plans basically do not exist. Forexearlywarning offers trend based trading plans and accurate live signal for 28 pairs and is one of the bright spots in this part of the industry.
Forex Blogs
The forex blogs we see have a lot of great information, but very little of this information is helpful for analyzing the market or showing traders how to trade profitably. All forex knowledge is great but if you want to trade and make a lot of pips, few if any blogs will help you to do this. Many forex blogs have computer generated content and advertisements or repetitive information available elsewhere. Blogs are fine, but a complete and profitable trading system would serve forex traders much better.
Forex Education Websites
This part of the retail forex trading industry space is likely the worst. Not only are the trading education websites mostly bad, but it can also be very expensive. If you search for good forex educational content on the web you will find a lot of computer generated content, or highly limited content and marketing websites with very expensive educational programs ranging up to $50,000. Remember that teaching a trader how to place a market order and what a Japanese candlestick is qualifies as "education". Do not spend money on these expensive programs. The rest of the educational content websites related to ineffective technical indicators. Technical analysis does not work. You will still be lost and have no idea when to place a trade with this type of education. Traders can check out our 35 forex lessons package at no cost, and avoid all of these expensive programs, while learning about a fantastic trading system.
Forex Social Trading, Forex Forums, Live Trading Rooms
There are a large number of forex forums available to forex traders, about 10 of them are quite popular. If a traders forum is an open forum and unmoderated, it can become a huge problem. New forex traders can get led in the any one of 1000 wrong directions with the technical indicators discussion. Almost nothing is verifiable and no true and complete trading systems are available on forums. You can waste months and years on forex forums and not learn how to trade at all. We think trading forums are a good idea, but they always get crushed under their own weight. Having hundreds of trading systems confuses traders. All you need is one effective system that is fully documented, and you have eliminated the need for forums altogether. Forum participants cannot get their questions answered, and the forums have a lot of people arguing with each other. The discussion of robots and expert advisors is a prominent part of most forums, however expert advisors do not work at all, and 99% of forex traders can't program.
Live forex trading rooms are also advertised to forex traders on the web. Most of these websites were one page advertising websites with no information at all and a registration page to gather your email and phone number. Some of these websites are "fronts" for a broker or IB with a page that says "sign up for an account here". One website offered "mentoring" for $1500. We would be very leery of these websites. Some live forex trading rooms where we could see the pricing advertised were up to $800 per month.
Proprietary Trading Websites
Proprietary trading websites are also part of the retail forex trading industry. A proprietary forex trading firm offers to fully fund a trading account for you. Then you can trade the account and split the profits with them. On the surface this looks great, but they also try to sell you $3000 in training up front before they fund your account. The training is poor and is based on more flawed technical indicators, which ruins the entire program.
Forex Advertising
Every day forex traders who do web searches are bombarded with advertising, and some of it is shady. Along with the broker ads to open an account, are other ads for robots, paid for indicators, and expensive education programs that give the industry a bad reputation. These are click ads, banner ads, social media ads, with "sign up here" or "pay here" web pages, no information. Also traders get a lot of unsolicited emails with no unsubscribe option in their email boxes.
Forex Trade Shows
After attending many forex trade shows, here are our observations. Many of the exhibitors and presenters represent larger companies, high cost education providers, and brokers. They are the only ones who can afford to be exhibitors due to the high cost of exhibiting. If you would like to open a forex brokerage account, trade shows are great because so many brokers are represented in one place and you can ask questions. But beware of the high cost services and high cost forex education companies who exhibit at these shows.
Impact On Traders
At the epicenter of all of these websites is forex traders. When forex traders do a web search, they find lots of information, but the amount of good information is small and it is surrounded with vendors looking to take your money, technical indicators, brokers pushing you to open an account, and lots of advertising, some of it shady. When a forex traders is on the web searching for information on how to trade the market profitably, the information is limited or thin, at best. Forex traders really do want to trade successfully, but face these barriers and roadblocks when searching the web.
Better Alternatives In The Retail Forex Trading Industry
Forex traders need a complete trading system and trading system that produce pips. They need to know how to analyze the market, any currency, or any pair. Traders need to know when and how to enter trades and how to manage the trades. The prices for these systems need to be free or very reasonably priced. Traders need all of the documentation for the system they are using, so, as a consumer, they can make better decisions when comparing systems.
We invite all traders to check out the Forexearlywarning trading system. It is a logical and effective system for making pips, and the cost is very low. All of our learning programs are free including our illustrated articles, video library and weekly webinars.
Traders need a trading plan but less than 5% of them probably have one. Traders need proven systems that works every day. They need common sense and transparency from vendors and service providers they can trust. Part of our logical trading system is shown below, it is called The Forex Heatmap
®
, which provides easy to interpret live trade entry signals.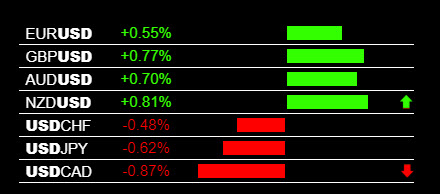 Conclusions about the retail forex trading industry:
The state of the union for the retail forex trading industry is bad for traders, and improvements are needed.
Other than the improvements with broker spreads, executions, safety of funds and broker websites, not much has changed over the years.
The technical analysis methods and forex educational programs advertised on the internet do not work and the vendors and educators are after your money.
The retail forex trading industry is still broken in many ways. Be extremely careful as it could be years before it is completely fixed, if ever. Always look deeply into the matter and ask questions before you commit to any pricey trading system or education, be a smart consumer. Do not fall into the same traps that others before you have fallen into.