Range Trading Strategy For 28 Forex Pairs
When the forex market is not trending strong up or down, you can use range trading strategies presented in this article to profitably trade the forex market. If you analyze the forex market using multiple time frame analysis, the pairs that are ranging and cycling up and down will be easy to spot, because multiple time frames analysis is so thorough. If you set up the charts and trend indicators by individual currency, you will be able to detect what currency in the pair is driving the movement and causing the pair to range up and down.
Traders need to remember that "a
ll currency pairs are either trending or ranging", and a very good range trading system is presented here.
What Is A Ranging Forex Market Or Pair
Generally speaking a ranging forex market or pair is when one or more pairs are cycling up and down between defined support and resistance levels. The forex market is trending when the larger time frames like the D1, W1, or MN are pointing up or down and in agreement. A strong trend might be just the D1 and W1 time frame pointing the same way on a pair or group of pairs with one common currency.
A ranging market would be when pairs, the market as a whole, or a group of pairs are ranging, cycling, or oscillating up and down, a non directional market. If the ranging pairs have a wide enough range, they can be traded using some of the strategies shown below.
Ranging markets can go on for several days or weeks so learning how to trade trending and ranging markets will increase pip totals. When the market is ranging,
at some point, the ranging pairs finally break out of their ranges and start to trend again.
Spotting forex pairs that are oscillating or ranging and planning trades for the up and down cycles is fairly easy.
Look at the first example below, if you attach a set of exponential moving averages to the various time frames on your forex charting platform, ranging pairs are easy to spot. This is a ranging currency pair with repeating support and resistance levels reversing up and down off of the same support and resistance levels.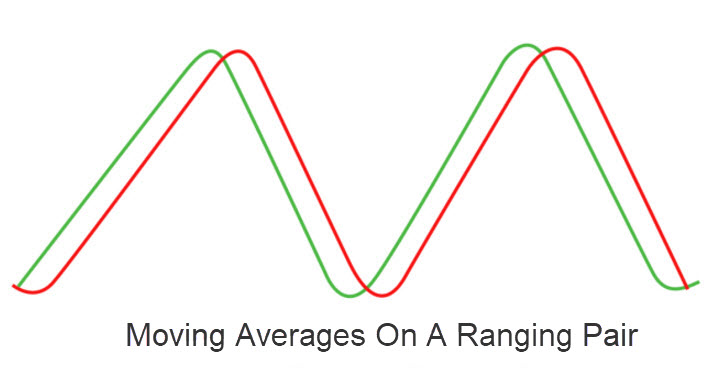 Now look at these two examples, these pairs are ranging, but the top pair is ranging with increasing tops and bottoms. So if this pair is ranging on, for example, the M30 time frame, the D1 time frame is likely in an uptrend.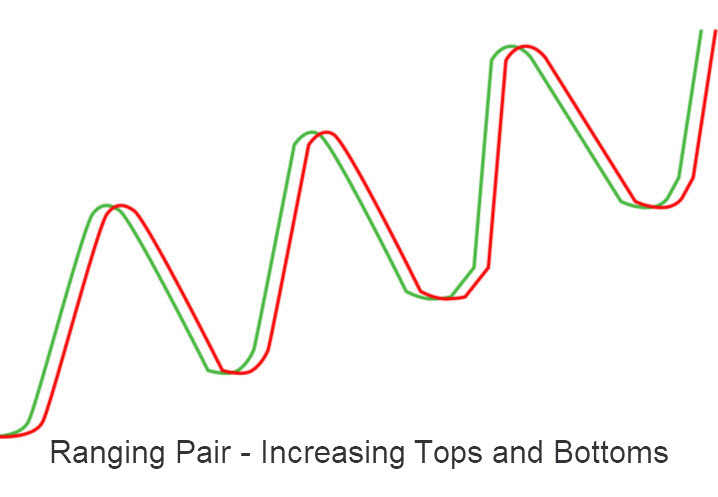 Now look at this example, this pair is ranging with decreasing tops and bottoms. So if this pair is ranging on, for example, the H4 time frame, the W1 time frame is likely in a downtrend.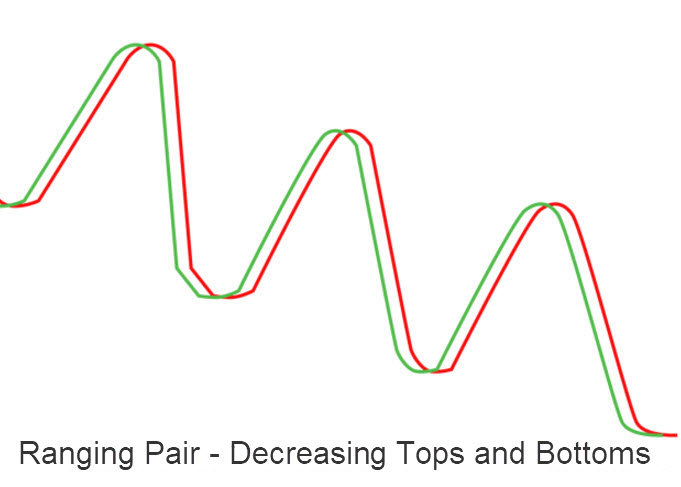 Range trading the forex market is more difficult when the market, or pair you would like to trade is ranging up and down in a choppy, ragged fashion. It is probably best to not trade these up and down cycles, or reduce the number of lots traded significantly. Stay away from any ranging pair that looks like this on the smaller time frames, not worth the risk.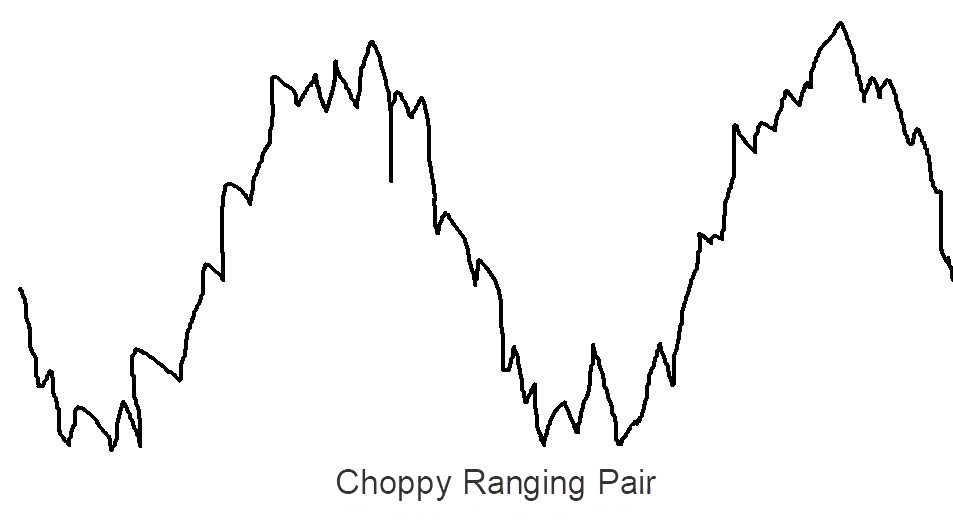 Range Trading Strategy, Check Your Time Frame
After a long trending period on the higher time frames, and when the forex market stalls it generally starts to consolidate. This is when oscillations and ranges start to develop. Ranging pairs can have smooth and clear, trade-able cycles or be ragged and choppy like the sketches and images you see above. It is best to not trade a choppy currency pair oscillation/range, or be very careful.
When developing a range trading strategy, in general, traders should stay away from the smaller time frames. Keep your risk to reward ratio favorable by sticking with the higher time frames that are ranging and oscillating, and make sure the range/oscillation cycles are smooth, not choppy.
Now lets discuss specific time frames for range trading the forex market. In general you want to trade ranging and oscillating pairs on the higher time frames, like the H4, D1, and W1 time frames. In some cases if you are trading a volatile pair, you can also trade cycles and ranges on the H1 time frame as long as the ranges are large enough. We trade 28 currency pairs with our system. Some pairs have lower volatility and some are quite high. If a pair is ranging on the H1 time frame you can review the currency pair characteristics and quickly determine if you should range trade the pair by drilling down the charts with multiple time frames.
Range Trading Strategy, Check The Volatility and Pip Ranges of Pairs
With our trading system, we trade 28 currency pairs. Some pairs are not as volatile as others, so the ranges between the top and bottom of the range cycles (amplitude) can be different on two different pairs on the same time frame. Amplitude is just the number of pips between the top and bottom of the oscillations cycles. This is the pip potential of each cycle to estimate your pip potential for the trade cycle. Knowing this in advance will help you determine if you want to trade this pair, and will also assist with stop placement.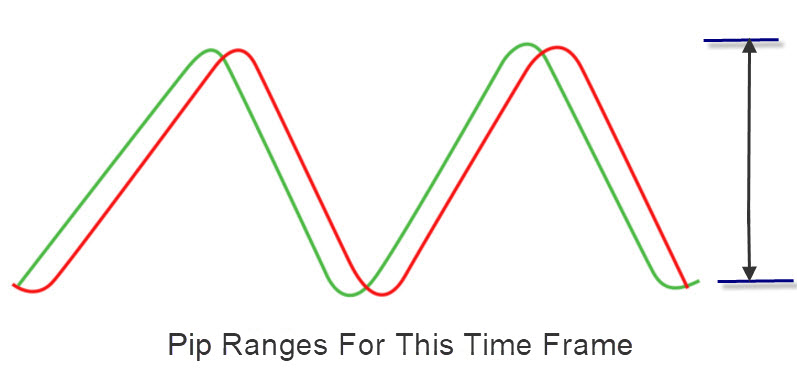 If the above illustration is the H4 time frame, how many pips will it move up and down? If the
H4 time frame range/oscillation cycle on a less volatile pair like the NZD/USD, the pip range might only be 100 pips from the top to the bottom of the cycle. By contrast, The H4 oscillation cycle/range might be 250 pips or more on a much more volatile pair like the GBP/CHF might be 250 pips. The GBP/CHF usually has substantially more pip potential because the pair is more volatile. You can apply this simple filter too all 28 pairs we trade.
On the higher time frame ranges and oscillations it could be hundreds or even over 1000 pips from top to bottom of the oscillation cycle. With some experience drilling down the charts you will get to know the 28 pairs and start to better identify the pip potential of each move before you enter. If you move to even higher time frames the pip potential on oscillating pairs is huge and your money management ratio is excellent, even in non-trending markets.
Range Trading Strategy, Trade Entry Procedures
We will use the AUD/CAD for a an example pair, but this technique is applicable to all 28 pairs we follow. If the AUD/CAD is oscillating and ranging between support and resistance in a wide range, and the cycles are fairly smooth and not too choppy, wait for a new cycle to develop and then consider buying or selling the pair. The point of entry should be as the new cycle is developing, after the reversal off of support or resistance.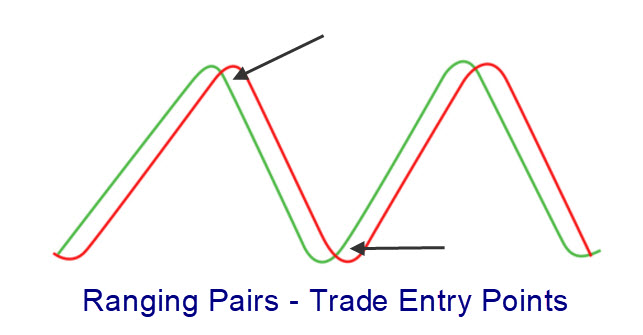 The pair moves up and hits resistance and stalls, then the next day when it reverses back down you can consider selling it. If the pair you are selling is the AUD/CAD, for example, you can also verify the sell trade with parallel and inverse currency pairs.
For selling the AUD/CAD you can verify the sell using the AUD pairs, or the CAD pairs. If the AUD is weak across all pairs you can sell the AUD/CAD, or if the CAD is strong on all pairs, traders can also verify the sell this way. It is also possible to use both groups of pairs to verify the sell trade.
Traders can verify entries on pairs in real time with up to 14 pairs using The Forex Heatmap®.
Here is a snapshot of The Forex Heatmap®, a real time visual map of the forex market.

If the AUD/CAD is cycling and ranging on a large time frame and starts a new down cycle. It is highly likely that the AUD/USD or AUD/JPY is likely starting to cycle down also. Or, possibly the EUR/AUD and GBP/AUD is starting a new up cycle on the same time frame. One range trading strategy is for traders to set up their trends charts and moving averages so that you can easily spot all of the new cycles. You can set up all of the AUD pairs together in one group and put all of them on one screen. You can also set up your charts with all of the CAD pairs together on one screen. This will increase your trading confidence substantially when trading ranging pairs or even trending. We have some short videos that will show you how to set up
forex trend charts
by individual currency.
Range Trading Examples
This is an example of a ranging pair using our exponential moving averages. The USD/JPY is oscillating and ranging in a fairly wide range of around 200 pips on the H4 time frame. This is an excellent chart setup, all you have to do now is set a price alert and watch The Forex Heatmap
® to verify the buy entry.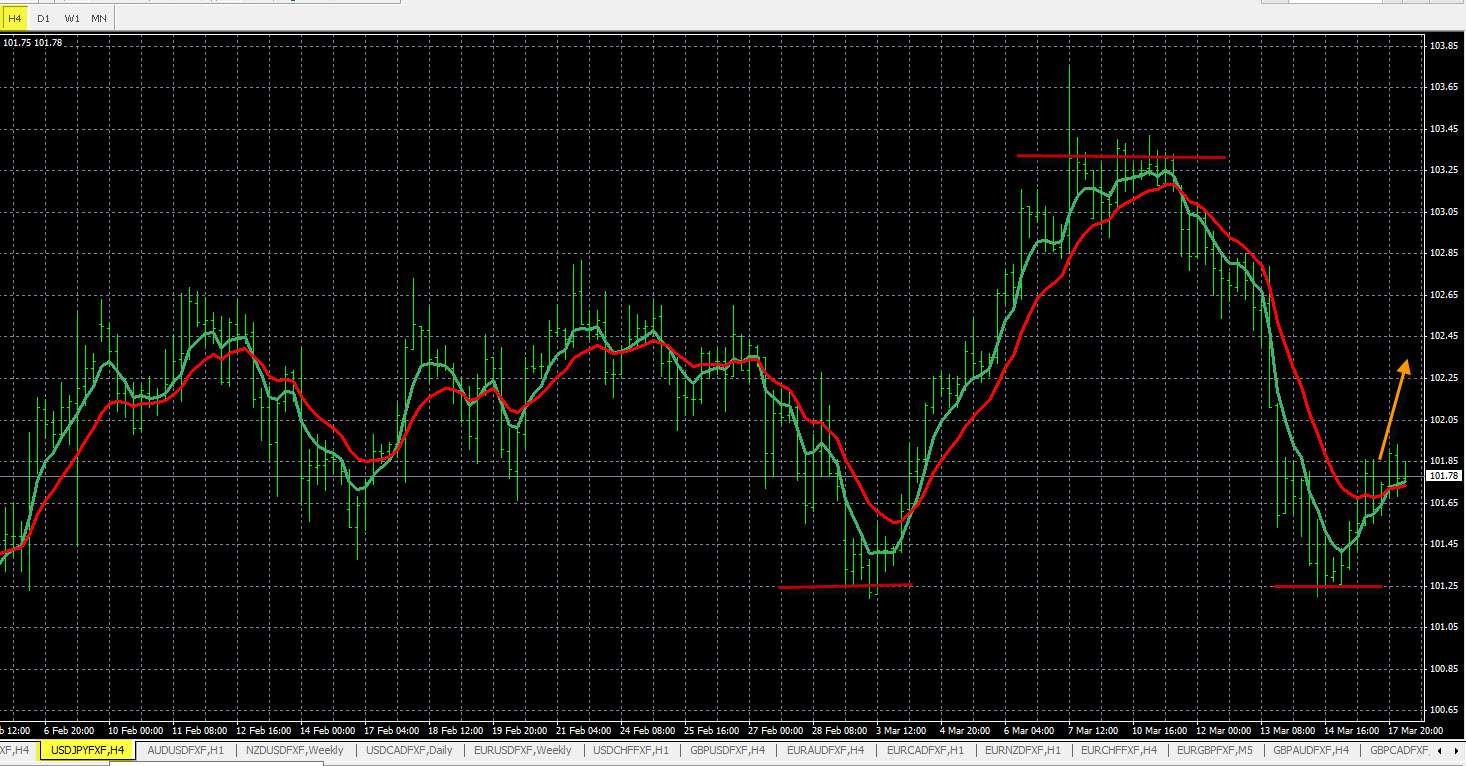 This is another range trading example, this time we are looking at the GBP/JPY on the D1 time frame. When a pair is oscillating the entry point is when the new cycle is starting, here is the estimated trade entry points on a oscillating pair. Look at the pricing as the range on this pair is 500-700 pips, tremendous potential.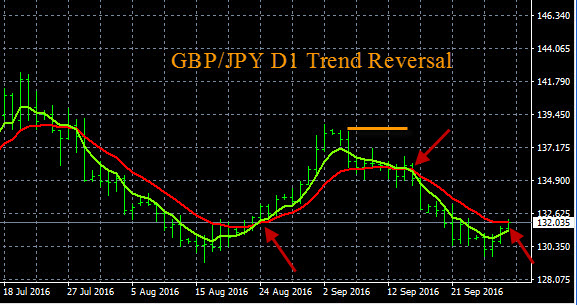 In this example the USD/CAD is oscillating and ranging on the H1 time frame. Even though this is a smaller time frame, it is still ranging in about a 175 pip range. This is a perfect chart setup for a range trade. Traders can set an audible price alert, then monitor for a buy signal using The Forex Heatmap
®.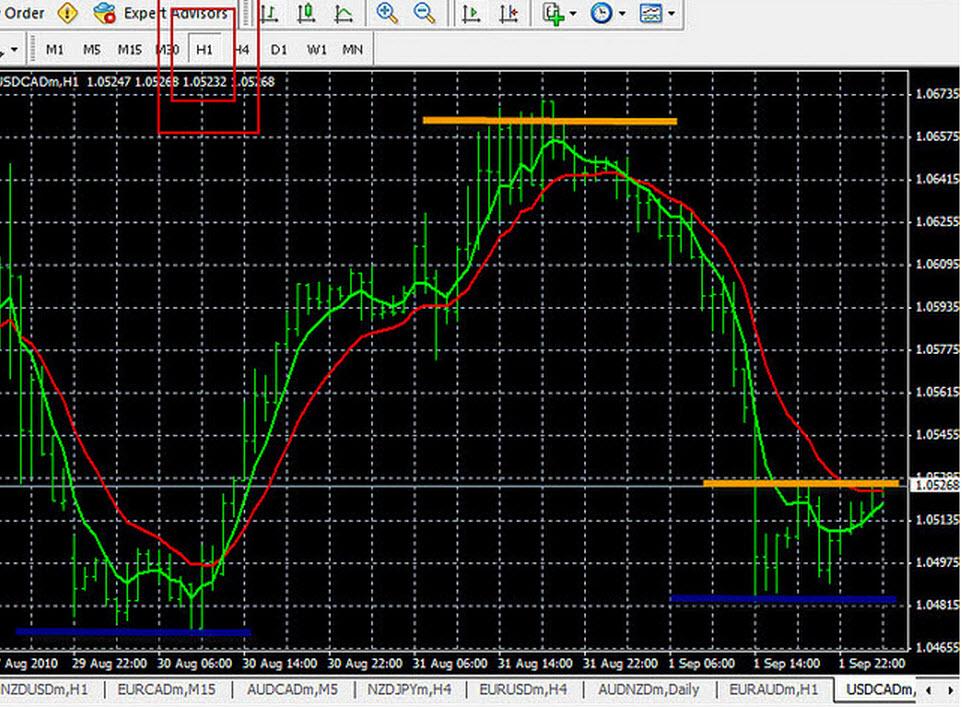 Range Trading Versus Trend Trading
Since the forex market is not always trending, it could be ranging, sometimes for weeks, it makes sense to have a range trading strategy available to capitalize on these non trending periods. With excellent analytical methods like multiple time frame analysis applied to our simple moving averages at our disposal, it should be fairly easy for traders to identify ranging pairs or groups of pairs. If you identify a pair that is ranging in fairly smooth cycles, you can also use our alert systems and indicators like The Forex Heatmap
®
to verify your trade entries. In a ranging market you may have to trade slightly more frequently, but ranging cycles on the H4 time frame can last 3-4 days, so this qualifies as swing trading. When you combine range trading with trend trading, you can maximize the opportunities to make pips across 28 currency pairs in any market environment.
Conclusions About Range Trading - When the forex market is not trending it is usually oscillating or ranging. Ranging pairs usually range in groups, i.e. all of the JPY pairs or all of the EUR pairs are ranging at the same time. Ranging pairs can be identified using multiple time frame analysis, buy individual currency. You can write a trading plan to trade a ranging pair. Trade ranging pairs on the higher time frames, H4 and larger, but occasionally on the H1 time frame, if the ranges are wide enough. Use our trend indicators and The Forex Heatmap
® to verify all trade entries, along with the other components of our trading system. If you combine all of the techniques presented here, you will have the best range trading strategy available for any forex pair or group of pairs. Trading ranging forex pairs with the strategies presented will increase your pip totals in non trending markets.