Forex Fundamental Analysis Course For Traders
There are two basic ways to analyze any class of investments, fundamental analysis and technical analysis. Forex fundamental analysis is no different. This article will focus on forex fundamental analysis and how this ultimately affects the direction of the major trends of any pair. Our trading system is trend based, so currency fundamentals are at the core.
An investment class would be something like stocks, bonds, commodities, mutual funds, or currencies, etc. For example if the CEO of a publicly traded company comes out and says that his company, which is currently not profitable, will become profitable and continue to increase profits for the next 3 years and the earnings will rise, then that company has strong fundamentals. In that situation the fundamentals, earnings, are improving and that stock could go up for a long time. A long term trend would likely develop based on the fundamentals. So the technicals improve and the trends form because of the improving fundamentals. Another positive fundamental for a stock would be strong company management.
What Is Forex Fundamental Analysis
This is essentially a fundamental analysis short course for currency traders. Forex fundamental analysis is the study of the economy of a particular country or region to assist a trader with trading their currency. Forex fundamental analysis uses various indicators and economic data or a series of economic data for that particular currency. For example if you are analyzing the fundamentals of a reserve currency like the US Dollar or Japanese Yen, analyzing the fundamentals is not too difficult. Just check the fundamental analysis indicators like all of the economic news, economic data, statistics, and economic indicators. All of these fundamental indicators translate to interest rates for that country or region. The interest rate differential between two currencies drives carry trades. A 3% differential times 10x leverage gives you 30% return on a carry trade, excluding the currency fluctuation.
Fundamental Analysis vs Technical Analysis
Which one is better? For currency traders the answer is probably neither. But when it comes to
spot forex trading you will never be entering a trade with fundamentals alone, and technical indicators have been proven to be of no use to forex traders.
The best approach for forex traders is to do a thorough trend analysis of the entire market, or in the case of Forexearlywarning traders this would be to conduct a multiple time frame analysis for 28 pairs, by individual currency. Then a trader can incorporate forex fundamental analysis into the trend analysis. This is a proven, solid approach of market analysis. The Forexearlywarning trading system is a trend based system. We also know that if there is one currency with strong fundamentals or weak fundamentals we would expect a trend to eventually form between these two currencies. So in a sense the fundamentals are built into our system because we follow the larger trends of the forex market on the larger time frames. By always looking at the larger trends of the market, this automatically puts us in agreement with the fundamentals. If the US economy is very strong and the Japanese economy is weak we would be looking for a long term uptrend to form on the USD/JPY.
The Forexearlywarning.com method of trend analysis is not technical analysis in the true sense, it is actually trend analysis with a focus on the larger trends. So our trading system actually takes fundamentals into consideration because we look at the larger trends. If a currency pair is in a strong uptrend or downtrend this is a summary of the two economies presented in the form of a trend. The actual trend analysis of a currency pair would take very little time, using some simple forex trend indicators. So by looking at the larger forex trends and time frames, you are actually conducting a forex fundamental analysis of a currency, without looking at any economic data. If the British Pound is strong against all currencies how much fundamental data do you need to know that the British economy is strong?? Little to none. This is true for all currencies. The larger time frames help to tell the fundamental story quickly.
Interest Rates Drive Currency Prices
Interest rate policy is the biggest key driver of currency prices and typically a forex fundamental analysis strategy for currency traders. If an economy is strong or weak this will be reflected in that country's interest rate policy, and ultimately, the strength or weakness of the currency. Fundamentally, if a country or currency region raises its interest rates and has strong monetary policy, the currency of that country will strengthen. Also if a country or currency region is lowering interest rates that individual currency could be weak. Quite simply this is about 80 - 90% of what you need to know to analyze the fundamentals of a single currency.
You can review this handy table of current worldwide interest rates for the eight currencies we follow at Forexearlywarning.com. An example of the table is shown below.

Commodity Based Currencies Fundamentals
Currency fundamental analysis for currencies like the New Zealand Dollar, Australian Dollar and the Canadian Dollar, or commodity based currencies, is slightly different. These countries are net exporters of gold and oil. Therefore the strength or weakness of these currencies reflect commodity prices and interest rates. Historically, gold is a country-neutral alternative to the US dollar. So given the inverse relationship between gold and the US Dollar, currency traders can take advantage of volatility in gold prices in innovative ways.
Australia is the world's largest exporter of gold, and Canada is the world's third largest producer of gold. Therefore, if you believe the price of gold will continue to rise you could look to establish long positions in Australian Dollar or the Canadian Dollar - or even position to be long those currencies against other major countries like the British Pound or the Japanese Yen.
Fundamentally speaking, US Equity investors already know that higher oil prices negatively impact the stock prices of US companies that are highly dependent on oil such as airlines, since more expensive oil means higher expenses and lower profits for those companies.
In much the same way, a country's dependency on oil determines how its currency will be impacted by a change in oil prices. The US's massive foreign dependence on oil makes the US dollar more sensitive to oil prices than other countries. Therefore, any sharp increase in oil prices is typically dollar-negative.
If you believe the price of oil will continue to increase for the near term, you could express that viewpoint in the currency markets by once again favoring commodity-based economies like Australia and Canada or selling other energy-dependent countries like Japan. In a general sense when the price of oil rises the Canadian Dollar strengthens to reflect this since they are an oil exporter.
But once again, an overriding factor is the larger trends of these commodity based currencies. If any of the commodity based currencies are trending up or down on the larger time frames, you have a good idea about what is going on with that country's economy and the price direction of commodities without looking at any other information. For example if the Canadian Dollar is strong against many other currencies and long term trends are in place, the price of oil is likely trending higher also, and you know this without any other information.
Japanese Yen Fundamentals and Correlations
The currency fundamental analysis for the Japanese Yen is the same as most reserve currencies, but here is another correlation which should be helpful. Generally speaking when the S and P 500 index is rising the Japanese Yen (JPY) is weak. So if pairs like the USD/JPY and EUR/JPY are in long term uptrends, this means that the S and P 500 is usually also in an long term uptrend. On a day to day basis you will also notice that if the S and P 500 index is rising and stocks are up, check The Forex Heatmap® and usually the JPY is weak and that is a very good day to trade these pairs. The Japanese economy is also subject to all of the other criteria mentioned in this article. For example if Japan is raising interest rates the JPY will be strong, but the movements versus the USA stock index should be mentioned.
Forex Fundamental Analysis Paralysis
Do not take forex fundamental analysis of the spot forex to an extreme. The forex market is the most efficient market in the world. The market is smart and most traders just need to follow the major trends and utilize the built in efficiencies of the high liquidity forex market to their advantage. If you follow the larger trends of the forex you are, by default, a fundamental trader.
If all you do is follow economic news, then get bogged down by the details you will become a
"paralysis by analysis fundamental forex trader", always bogged down by the details of the fundamentals and the various news announcements.
Don't do this, always check the long term trends across the currencies you follow, then the news and market sentiment will make tremendous sense. The liquidity and fundamentals is what produces trends in currency pairs, by making one currency strong or another weak.
How should forex traders use fundamentals? Keep it simple and remember this, knowing the direction of interest rate direction and forward policy for a country or region is probably 80-90% of what you need to know from a fundamental stand point. All of the economic announcements are absorbed into the interest rate policy and market trends of any currency.
The larger forex trends exist for a reason. But i
f you don't see large trends available, the market might be ranging or oscillating for long periods of time. That's fine for us, we can detect ranging markets using multiple time frame analysis, and trade the market anyway for shorter term profit.
Forex Fundamental Analysis of a Currency Versus a Currency Pair
Analyzing the fundamentals of a currency pair is impossible.
There are no fundamentals on the EUR/USD, only fundamentals on the EUR and USD, separately.
Analyzing the fundamentals of an individual currency is possible, but forex traders have it completely wrong by the continuous and ongoing endeavor of using technical indicators on pairs. I
t is our sincere hope that forex traders adopt the individual currency analysis approach practiced by all Forexearlywarning traders. It is obvious that a currency pair is comprised of two separate currencies and that performing any type of fundamental analysis or trend analysis must include an analysis of each individual currency before any progress can be made. This is also true for trade entry points, which must rely on individual currency analysis using The Forex Heatmap
®.
Example Fundamentals and Trend
Here is an example of many of the teaching points from this article. This is an example of the USD/CAD long term uptrend from 2012-2015, seeing this pair rise over 3000 pips. During this time the USD economy was strengthening and towards the end most of the discussion was centered around raising interest rates in the USA. Also during this time the price of oil was weak, causing the commodity based Canadian Dollar to drop. The result was a long term uptrend on the MN time frame for 3 years. Strong fundamentals on one currency and weak fundamentals from the other currency created the trend.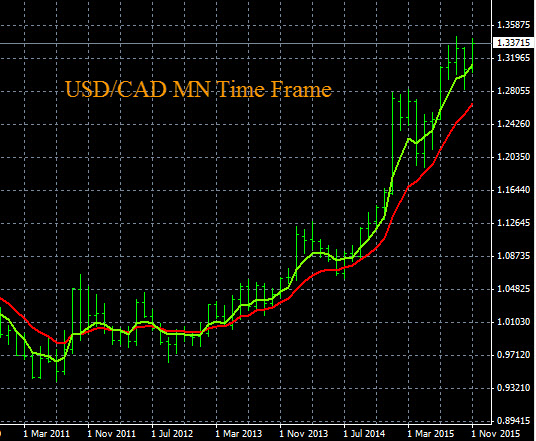 Conclusions - Forex fundamental analysis is actually of limited importance to traders. Just review the larger trends on the forex market across all 28 pairs we follow and analyze the individual currencies, and the fundamentals will be automatically built in to your trading system. If you are strictly a trader and know very little about fundamentals you can still trade the currency market in the direction of the larger trends. Knowing some basic fundamentals like the direction of interest rates for any individual currency would also be beneficial, and to some extent the price and trends of commodities for certain commodity based currencies. For traders, knowing all of the fundamentals of a currency is fine, but you still need to have a trade entry point, and we can provide you with daily entry points with the Forexearlywarning system. We hope you enjoyed this short course in forex fundamental analysis.