Foreign Currency Transactions, Cash Versus Online
In this article we will compare two types of foreign currency transactions. We will compare cash currency transactions to online currency transactions. If a foreign currency trader understands how cash transactions work, then they can successfully transfer that knowledge to online transactions, and almost instantly improve your online forex trading results.
Foreign Currency Transactions With Cash
Here is an example of a cash transaction. If you are a US citizen who is going to Europe on a long vacation, you may need some Euros. You decide to sell $10,000 worth of US Dollars to buy Euros to take on your trip. These foreign currency cash transactions are normally done in person at the airport or any cash currency exchange kiosk. One month goes by and your trip gets cancelled, so you take your Euros back to the currency exchange kiosk and they hand you back $10,200 for your Euros.
What happened??
Well, after you exchanged the dollars into Euros, and when you were holding on to the Euros, during that month, either the US Dollar dropped or the Euro rose, or possibly both. This caused the value of your cash Euros to rise against the Dollar and the exchange rate went in your favor. There is no other possible reason you could have profited from this cash transaction When you went back to the currency kiosk to exchange your Euros back into US Dollars, you made a $200 profit.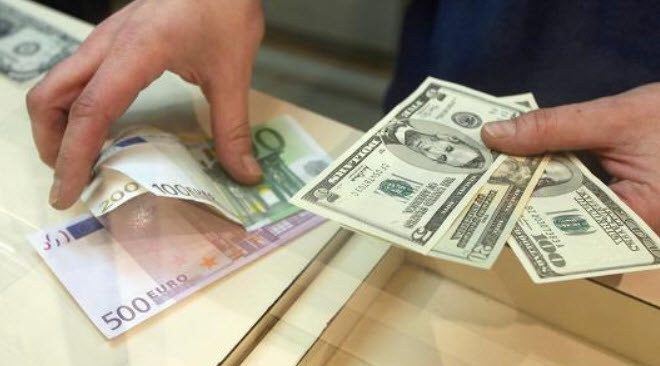 Online Foreign Currency Transactions
In the example above you had a profitable foreign currency transaction, but you used cash for cash. When you buy Euros for US Dollars online you do not use cash, and there are some other differences also. Some of the differences are much lower spreads and using leverage.
If you go online and buy $10,000 worth of Euros with the US Dollar, using a USA based broker, the online trade would be to buy one mini lot of the EUR/USD.
When you do an online transaction the trader would have to only put up $200 to buy the $10,000 worth of Euros, at 50:1 leverage. 200 x 50 is 10,000. Higher leverage amounts are available outside of the USA, so you would have to put up less.
After you buy the Euro with US Dollars, the only way you can make a profit from this online transaction is if the EUR was to rise, or the USD was to fall, or both. If this happens the exchange rate will go in your favor again as you are now holding Euros. Then when you close your online buy of the EUR/USD, the online trader will make a profit. You made a profit with an online trade for the same exact reasons you made a profit with a cash trade, the exchange rate moved in your favor.
In this article, when comparing foreign currency cash transactions with online transactions, remember that we are using the EUR/USD example for transactions involving these two currencies, but the same logic applies to the eight currencies we follow at Forexearlywarning. The logic applies to buying the EUR/USD, selling the EUR/USD or buying or selling any one of the 28 pairs we trade.
Profiting From Foreign Currency Transactions
If you buy Euros with US Dollars with cash, this is like buying the EUR/USD online. The only way to profit from this transaction is if the EUR rises while the USD is steady, the USD falls while the EUR is steady, or if the EUR rises and the USD falls. There is no other way to profit. The only thing that matters is the exchange rate when the transaction is opened and closed. Price is everything.
When traders begin to realize that the same things that affect a cash transaction profit also affect an online transaction profit, then begin to understand that the exchange rate of spot forex rate is the only thing that affects the outcome of the transaction.
If the EUR/USD is trading at 1.2510 and you buy the EUR/USD, then you close the transaction at 1.2540, you just made 30 pips, the exchange rate moved in your favor after you bought the Euro with US Dollars.
What causes the exchange rate to move up from 1.2510 to 1.2540 ?? Well, either the Euro strengthened or the USD dropped, or both. Once online currency traders begin to see this they begin to understand why standard technical indicators (fibonacci code, bollinger bands, etc) simply do not work. Then currency traders can start to look at individual currencies rising and falling to get to profitable online trading.
But this is not what 99% of online currency traders do, they use strange and ineffective technical indicators which are applied to pairs that do not measure the correct quantities. Technical indicators do not take the EUR and USD strength or weakness into consideration. This is a massive fail point for online currency traders. Standard technical indicators like Fibonacci, stochastic an RSI are completely useless.
Technical indicators are fundamentally flawed since they are always applied to pairs, not individual currencies. What the Euro is doing is completely independent of what the US Dollar is doing. You must analyze each separately when analyzing a currency pair. This forms the basis of what we do with the Forexearlywarning trading system.
The only way to profit from a currency transaction, whether it is a cash transaction or an online transaction, is if one currency rises or the other one falls, or both. This would cause the exchange rate to fluctuate in your favor so you can close the trade at a profit. This logic works for any currency pair.
Treat Currency Pairs Like Two Separate Instruments
For profitable foreign currency transactions, cash or online, on the EUR/USD or any other currency pair, treat each currency in the pair separately. The EUR/USD is not one instrument, it is two instruments, the Euro and the US Dollar. Y
ou have sold one currency and bought the other one, so one must go up or the other must go down to make a profit, there is no other way to profit.
Ignoring this fact kills off almost all forex traders before they ever place their first trade. Attaching standard technical indicators to a pair will destroy your trading.
If you take any currency pair and separate it into its two separate currencies, then analyze the condition of each currency separately, you can trade the forex successfully. Separate the EUR/USD in to the EUR and USD and analyze each currency separately. This will start you on the road to successful forex trading.
Foreign Exchange Gain Or Loss is determined by two things, the exchange rate at the time of purchase and the exchange rate at the closing sale transaction date. And the only factor contributing to the price is the individual currencies in the pair moving up or down in price. For a cash transaction price is the exchange rate, and in an online transaction it is the spot price, and price is the only thing that matters.
The Forexearlywarning trading system for online currency transactions is a price based system. We use price charts, moving averages, a heatmap and support and resistance levels in our system, which are all price based, along with other factors. The system incorporates analysis of individual currencies as well. When you make a cash currency transaction nobody looks at Fibonacci numbers or stochastics, they look at the current prices and exchange rates only.
Tools For Analyzing Currencies
As a currency trader, now you know you must analyze each currency separately for a successful currency transaction. We have tools and techniques for doing this. There are two ways to use individual currencies for currency trading. One way is for market analysis, and the other way is for trade entries. Online traders can set up our free forex trend indicators on any brokerage platform to analyze the trends quickly on one currency. If all of the EUR pairs are trending up, you know that the EUR is strong. We also have real time tools like The Forex Heatmap®, that can tell you if any currency is strong or weak in real time. Conducting profitable foreign currency transactions gets much easier with these tools. Compare this approach to using the technical indicators attached to pairs and it is easy to see the differences.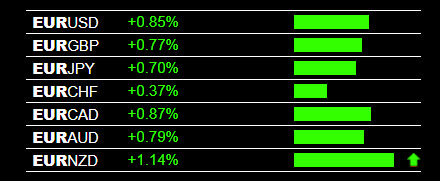 One of the important components of the Forexearlywarning trading system is always splitting a currency pair into its two separate currencies. We refer to this as parallel and inverse analysis. We also conduct multiple time frame analysis by individual currencies to enhance the analysis, this is how we prepare trading plans too.
Conclusions About Foreign Currency Transactions - Cash currency transactions are exactly the same as online transaction, except for leverage, the spread, and one transaction is done on your computer, the other one is in person.
If you can make a profitable cash transaction you can make a profitable online transaction. The reason for having a profitable currency transaction is exactly the same for both types of foreign currency transactions; one currency strengthens or the other one falls or both, after the transaction is completed. We used the EUR/USD example in most instances in this article, but these simple techniques work for all currency pairs. Individual currency concepts will turn your online forex trading profitable almost immediately. Attaching standard technical indicators like Fibonacci, stochastic an RSI to pairs are recipes for failure.