Forex Trend Indicators
Summary
Here are the instructions for setting up your free trend indicators on any metatrader platform. The indicators are great forex trading tools and can be used to conduct multiple time frame analysis and to follow the trends of the market and our "Second Opinion" trading plans. The indicators are adaptable to most forex trading and charting systems. These indicators are quite simple but very effective for market analysis.
Instructions For Setup on Metatrader
These instructions are for a Metatrader platform, however experienced traders can set up these simple exponential moving averages on most forex charting platforms.
1. Open up a Metatrader platform from any broker you wish. A Metatrader platform from any broker is fine.
2. Open up a chart on one pair. One way to do this is to right click on a pair in the quote window and symbol area inside the market watch window and click on "chart window". The chart will be added to the platform.
3. On the top tool bars there is an icon that looks like a magnifying glass with a + sign. You can click on this twice to expand or magnify the chart. Some personal choice is involved here but this will match the setup we use.
4. In the "Navigator" area under "Indicators" right click on "moving average", then attach to a chart.
5. Fill in the fields period: 5, ma method: exponential, apply to: close, style: green, line thickness second one from the top.
6. Repeat step number 5 and fill in the fields Period: 12, ma method: exponential, apply to: close, Style; red and line thickness second one from the top.
7. On the "visualization" tab check "all timeframe's" then click OK.
You now are finished with the setup on one pair for all 9 time frames. Repeat the process for each successive currency pair. It takes about 30 minutes to do all 28 pairs. If you do this once all of the settings will be saved automatically.
Trend Indicator Videos
If you would like to see several short 5 minute videos about how to set up these fx trend indicators, fully narrated, including some alternative setups and options for using more features of Metatrader we also have these available.
Trend Indicator Screenshots
After you have installed the trend indicators on Metatrader you can check them against the various images presented here on our forex blog and the example below. Metatrader 4 platforms have 9 different timeframe's built in to their trading platform. All traders need a set of forex trading charts and you will now be able to see how to set up the charts for our system.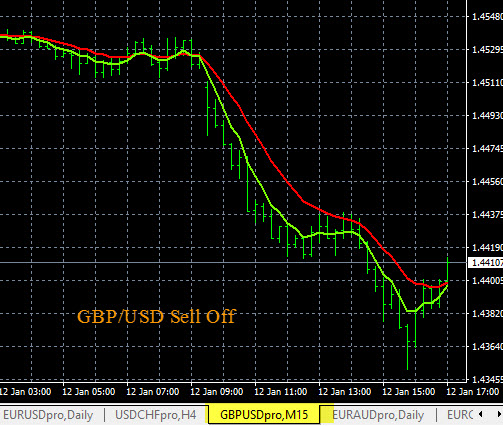 Setting Price Alerts
The Metatrader platform has free desktop price alarms built into the platform. These videos show you how to set up the price alerts using the desktop price alarms system on Metatrader. The Second Opinion trading plans from Forexearlywarning work extremely well with the price alarm system. Each Forexearlywarning trading plan contains specific alarm points across 28 pairs Check with your broker on how to get these price alerts delivered to your cell phone.
Using The Price Alerts
When the price alarms in the Forexearlywarning trading plans hit just check the smaller timeframes on the free trend indicators along with The Forex Heatmap® for entry verification into the major trend or oscillation cycle. Following the trends of the forex market along with a well prepared trading plan, when combined with good money management will guide you through the trade entry process into the larger trends of the forex market.