Live Forex Heatmap® Alerts

Welcome to The Forex Heatmap® alerts page. Our heatmap alerts work for 8 currencies and 28 pairs, and all of the alerts are real time. The alerts notify you when the currency market is moving and they are visible on web browsers, tablets, Iphones, Ipads and Android phones. You can test the alert system on this page. When the forex market is open, just wait two minutes and check the alerts, if the blue dot turns red after two minutes, there are currently alerts available, just click on the red dot for the drop down menu of current alerts. The current number of alerts is inside the red dot. See the images below for examples. When you see an alert it means one or more currencies are consistently strong or weak on the The Forex Heatmap® on at least 6 out of 7 pairs. Currencies with 7/7 pairs consistent in one direction have a (7) designation. The alerts work in both trading sessions, and any time the forex market is open. If you minimize this page in your desktop you can see the alerts with a flashing (!) icon in the toolbar, which also indicates the number of alerts currently available. On your phone or tablet just open up this page and create an icon you can tap anytime. Always know when currencies are moving from any location!
When you see a new alert go ahead and login to the members area and check the heatmap, trading plans, major trends, support and resistance, etc. looking for a potential new trade entry. Alerts for all eight currencies are also available in the members area on the trading plan page, and these alerts are also viewable on web browsers, tablets and mobile phones. If you are a subscriber to Forexearlywarning, here is what the alerts look like in the members area.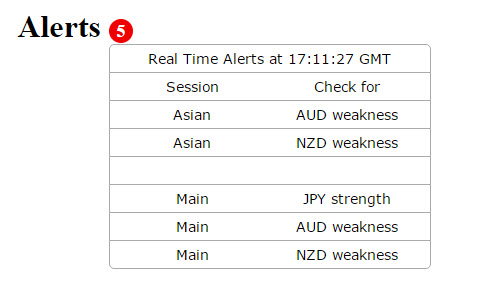 How To Set Up The Alerts
Apple iPhone and iPad:
1. Open up the page in Safari browser - http://www.forexearlywarning.com/the-forex-heatmap/alerts.
2. Press the bottom center icon of a box w/arrow - the "send to" icon.
3. Select "Add To Home Screen", confirm "Add to Home" and select "Add"
.
1. Open the alerts page URL - http://www.forexearlywarning.com/the-forex-heatmap/alerts
2. Click on "settings" then "more" then "add shortcut to home".
Web Browsers -
Try Chrome and Firefox browsers if the alerts are not visible on Internet Explorer, or clear the cache in any of these browsers if the alerts are not functioning correctly or you see any visual errors in the alerts display.
If you combine our new live heatmap alerts with audible price alerts from our trading plans sent to your desktop and/or email/phone, you will always know when the forex market is moving. Traders can combine these alerts
with exact times of volatile news drivers on the economic news calendar to always know when to come to the computer looking for currencies moving and potential trades.
If you leverage all of these alert systems and combine this with knowledge of trading in the main trading session in your local time zone you can be a time-efficient forex trader. You will always know when the forex market is moving at home or on the go. Information about how to set audible price alerts for breakouts, exact times of volatile news events, and your local times for the main forex trading session is available in our 35 forex lessons. If you have any questions about how to use our alerts email us with your questions.