Support and Resistance and Price Alerts
The forex market is a support and resistance market, all trends start and end at support and resistance. All reversals and retracements start at support and resistance. Forex trading becomes a lot easier if you are an expert at identifying key areas of forex support and resistance.
If near term support and resistance is compared to longer term support and resistance on some simple charts and trend indicators that we will show you in this article then our understanding of support and resistance will be strong. So we need to divide support and resistance into short term support and long term.
For analysis of the market we use multiple time frame analysis with simple bar charts, and this is the same way that we analyze support and resistance, across different time frames. This method of analysis across different time frames is not the standard technical analysis most traders use when analyzing currencies.
Short Term Support and Resistance
If a currency pair is trending you can set price alarms/alerts to monitor for breakouts of the short term support or resistance established over the last 18 hours for trade entries, while the pairs are consolidating.
To monitor short term support and resistance you can set up some simple trend indicators which are available on a piece of trading software called Metatrader. These indicators that look exactly like these charts presented in this article.
Trend indicators work a certain way and you must learn to think like trend indicators work. There are trend indicators you can use every day like these simple exponential moving averages that work extremely well. These are price related indicators but are historically and exponentially weighted with the near term pricing support and resistance carrying more weight. Historical data is accounted for in charts and exponential moving averages work in a similar fashion with natural heavier weighting of data to the right side of the chart.
Set up these simple forex trend indicators on a Metatrader platform and check the M5 and M15 minute charts on several pairs when the pairs are consolidating. Write down the numbers and these are the short term support and resistance levels. You can also call this intra-day support and resistance because these levels have been established in the last 12-18 hours.
The chart you can see below this text is an M15 chart showing intra-day support on the GBP/USD, just set your price alarm immediately below the support established on the right side of the chart.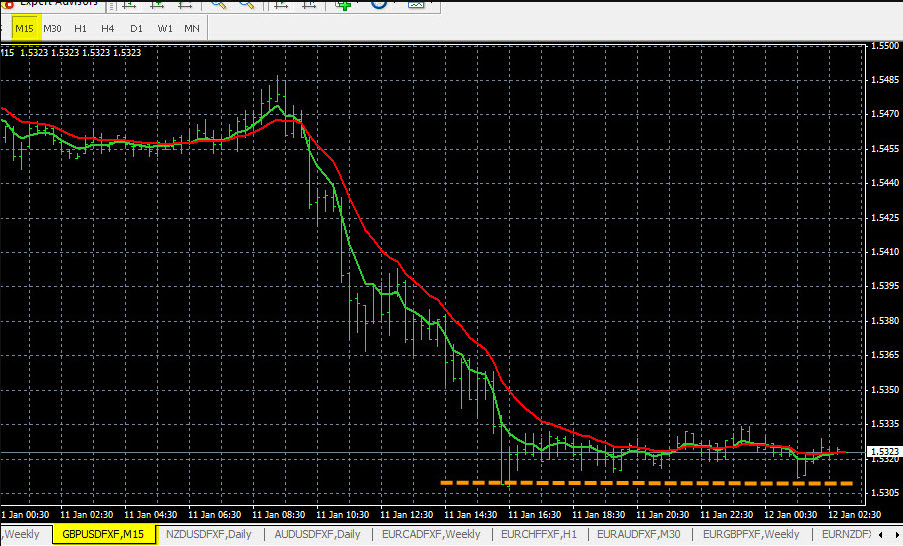 Longer Term Support and Resistance
To monitor long term support and resistance to assist with your forex trading set up the free trend indicators. But now you need to check the support and resistance on the longer time frames like the H4, D1 and W1 charts. Check out the longer term support and resistance when the pairs are consolidating. Write down the long term numbers and compare the long term numbers to the short term support or resistance numbers. Not exactly too difficult and you will learn forex as it relates to all of the support and resistance numbers on the various pairs on the market.
The chart below shows long term support on the W1 time frame on the GBP/USD just below 1.5300 see the yellow line on right. Very easy to spot the support levels.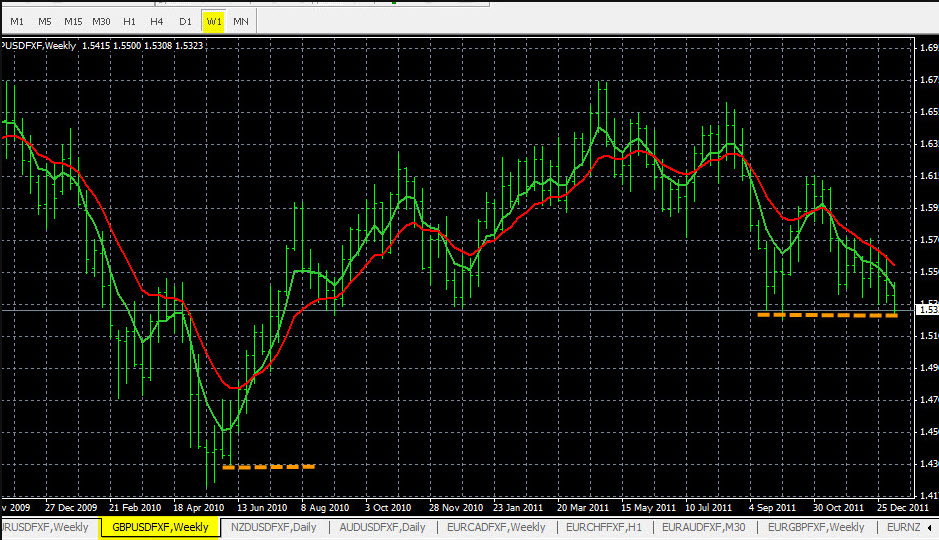 Setting Price Alerts
If you decide to set a price alarm off of short term support or resistance be sure to check the long term support and resistance as well on the same pair. In the GBP/USD screenshot you would set the price alarm below the intraday support on the right side of the chart if the GBP/USD was in a downtrend. Compare the short term support level to the longer term support levels and see how much room there is in between the short term support versus long term support numbers. If the numbers are too close then set your alarm off of the long term support numbers, its just not worth it to try to trade this pair otherwise. In other words if the numbers are close to each other its best to set price alarms outside the long term support or resistance so you have more pip potential if you decide to trade it. Now you can quickly identify the pip potential of any trade.
Sometimes the short term support or resistance numbers match up evenly with the longer term support and resistance numbers and they may match up quite well. If this is the case any breakouts of these prices can produce strong new up trends or downtrends. On the chart below is a screenshot of how you would set a price alarm for a potential price breakout of any support or resistance level on any pair.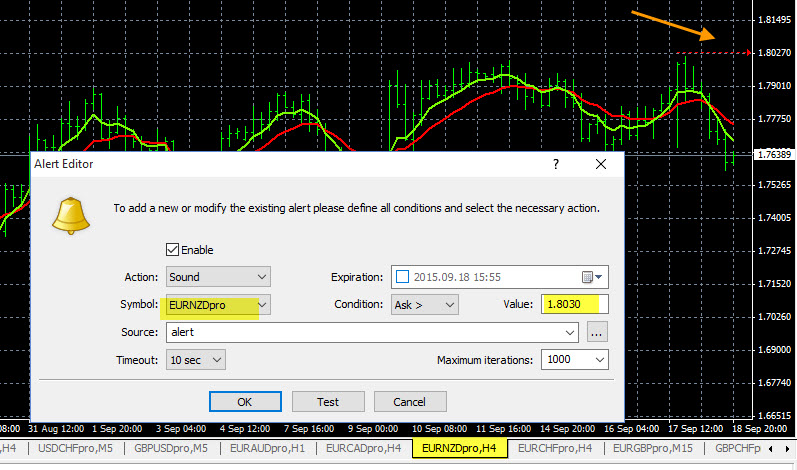 Forex price alarms are also free on a piece of forex trading software known as Metatrader. You can set multiple alarms on multiple pairs and always be monitoring the forex for price movement and breakouts at no cost. A phenomenal free tool for forex traders!! Just above this paragraph is a photograph of how to set audible forex price alerts on a Metatrader platform on any pair. Monitoring currency pairs with price alarms will help you to learn forex and always know when the market may be moving. Contact your broker about having these price alerts sent to your cell phone too.
Price Spikes Versus Areas of Support and Resistance
A price spike is generally not too important when analyzing forex support and resistance. Price spikes can happen around forex news events that you can find on forex news calendars. Trend indicators are more sensitive to areas of support and resistance than price spikes, which are somewhat meaningless to trend indicators. Price spikes are quick jumps or drops in price that quickly recover back to the same price level.
Support and resistance matters a lot to the trend indicators you would use to analyze the market, because the indicators you see in this lesson are price based. All trends start and end at support and resistance. Learning to identify spikes will also help you to learn forex and their relative lack of importance compared to clearly defined strong areas of support or resistance.
Almost all trend indicators treat spikes as insignificant compared to repeating and continuous areas of support and resistance which are very significant. Trend indicators which tend to smooth data like regression channels and the ones you see in this lesson are more sensitive to areas of support and resistance versus spikes.
Since most trend indicators including the exponential moving averages pictured here all have historical weighting of price built in to their formulas and algorithms they both "see" all of the historical price data especially recent price data because the algorithms are historically weighted on these indicators.
The indicators shown when the green line converges on the H4 and D1 charts this is an indication of a currency pair stalling at longer term support and resistance. This is why the D1 chart on these free trend indicators matches up so well with most other trend indicators. Convergences of the green line occur when the price stalls on the various time frames and is somewhat obvious on the charts.
This is because as we have said over and over, that all trends start and end at support and resistance.
Repetitive Nature of Support and Resistance
Spot forex support and resistance numbers are repetitive on ranging or oscillating currency pairs, they are also repetitive on long term support and resistance numbers over months and years. It's clear on the charts if you have a close look
Some currency pairs are not trending, they are oscillating or ranging up and down between support and resistance as in the example above. Major currency pairs and exotic pairs can do this and they do this all of the time in a non-trending forex market. Support and resistance numbers are repetitive on ranging pairs and it is obvious. The image below shows some nearly repetitive support levels in a larger time frame.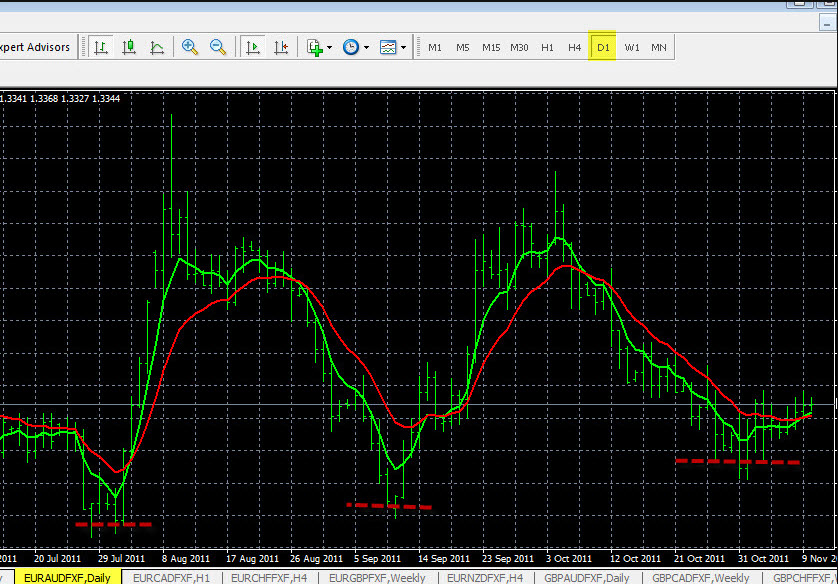 Setting up the Metatrader forex trading software, these free trend indicators and setting price alarms will help you to learn forex and greatly assist with your forex trading, you will always know when the forex is moving.
Straddle Alarms/Alerts
Sometimes currency pairs are moving sideways in a tight price range, in this case you can set a straddle alarm. A straddle alarm is two price alarms on the same pair, one is above the tight trading range, and one is below the tight trading range. Resistance alarm and support alarm set simultaneously to detect movement in either direction.
In this case after a thorough analysis of the CAD and USD groups using multiple time frame analysis it was unclear what direction the USD/CAD would go. To compensate, a straddle alarm was set, see the example straddle alarm set on the two red-lined prices below. The reason you set two price alarms of the same pair is that you just do not know what direction the pair will go based on your overall assessment of the market.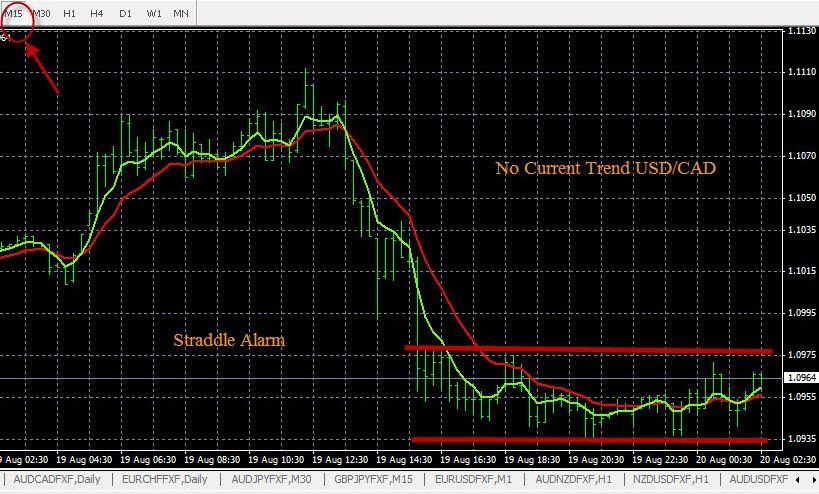 In this case it hit the support alarm and a forex trading entry was verified to sell the EUR/CAD based on CAD strength using the Forex Heatmap® which is described below. Remember that this Metatrader forex trading software and charting package is free, and so are the alarms and indicators. Metatrader is available from many forex brokers.
What to Do When The Price Alerts Go Off
So now you know how to set up price alarms and monitor the spot forex pairs for movement using these forex charts. You are now monitoring one or more pairs with price alarms. The London session starts and the heaviest period of market activity is starting including a lot of the forex news.
At some point one or more of your price alarms hits and will go off and the forex market starts moving. Now you get in front of the computer to see if you should enter a trade. Price alarms will tell you that the market is moving but you still need to verify your entries. There is a new tool now available for entry management and verifying trade entry decisions that most forex traders have never seen, it is called The Forex Heatmap®.
The Forex Heatmap® tells you at a glance what currencies and pairs are strong or weak and verifies whether or not you should enter a buy or sell on the pair where support and resistance is broken. Or it could possibly identify an entry on another pair in the same parallel or inverse group of pairs. Price alarms detect price movement but it could be a price spike or fake out, as discussed above. It is always best to verify your forex trade entries with a reliable real time tool like the heatmap.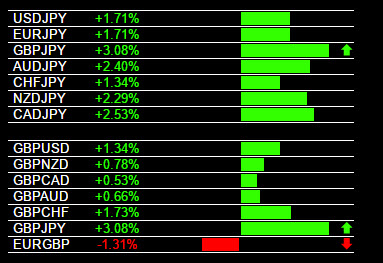 Reading the Forex Heatmap® is not difficult. The above example shows a buy signal for the GBP/JPY. For different heatmap configurations you can quickly see the pockets of strength and weakness on the spot forex at a glance and get your trade platform ready when the configurations are set. Forex trading just got a lot easier using this web based forex software. You can learn what forex trade entries look like and trade much more safely with this tool. Our library of example forex trade entry signals will show you various various examples of trading signals for 28 pairs.
Layers, Zones and Clusters of Support and Resistance
Sometimes a pair is stuck in a broad range dominated by layers and clusters of support and resistance and the trend charts indicate choppiness. This means that the pair is bouncing up and down in a fairly wide price range and is incredibly difficult to trade. The market is not always trending or oscillating in some beautiful smooth pattern. Trading a market like this is riskier and the incidence of stop outs is more frequent. Trade durations are shorter and movement cycles typically last only through one London-USD trading session and then you would exit trades, or else not trade at all. This is easy to recognize, just look at the charts, but most traders do not understand this concept at all. If they did their trading would improve. If you want to learn to trade the fx market try to take this concept forward.
Layers of support or resistance are also referred to as choppy markets, tight ranges, clusters, tunnels, and not to confuse anyone with terminology but they are all danger signs pointing to riskier trades. Trading pairs with a lot of room to move up and down, and not stuck in clusters, is easier.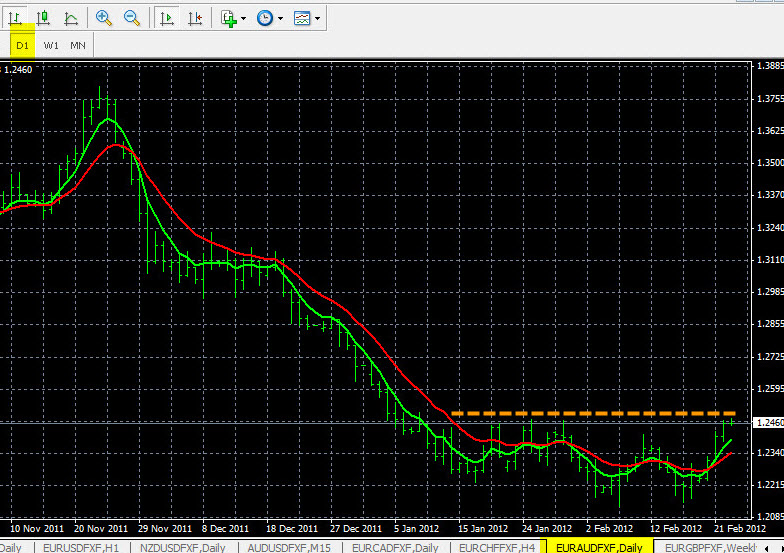 On this chart above is an example of a support cluster, it is best not to trade until the price breaks out of the cluster. The pair will be able to move better and be much easier to trade with larger trends forming outside of the cluster. Price alarms should be set on both sides but outside of the cluster at resistance and support looking for a clear shot at pips. The chart shown above is the D1 time frame on our free indicators using the Metatrader software, and shows the location of a good resistance alarm point with the yellow line.
Remember this concept - currency pairs move because one currency is strong or the other is weak, or both. The reason clusters form is because both currencies are strong or weak, or both currencies are not moving. This simple fact is ignored by almost all traders but can be easily verified by the charts.
Support and Resistance Examples
A complete library of support and resistance examples is available on our traders blog, and we regularly post more examples. There are over 100 examples of short term and long term support and resistance on our blog, along with examples of layers and clusters, also double tops and bottoms and where to set price alerts. All of the images pr charts you see in this article are our free trend indicators, which are exponential moving averages attached to a simple open, high, low, close chart. After the price alerts go off you can then monitor The Forex Heatmap
®
for trade entry verification.
Summary and Conclusions
Knowing the short term and longer term support and resistance levels is part of our trading system. All trends start and end at support and resistance, all consolidations, retracements and reversals start at support and resistance. So traders should use our resources and techniques to become experts and strive to be the best support and resistance analysts possible. Looking for pairs with lots of pip potential and avoiding clusters and layers of support and resistance on your trade entries will improve your trading and increase the number of pips you capture week after week.